Smoky artichoke & sardine salad
Smoky artichoke & sardine salad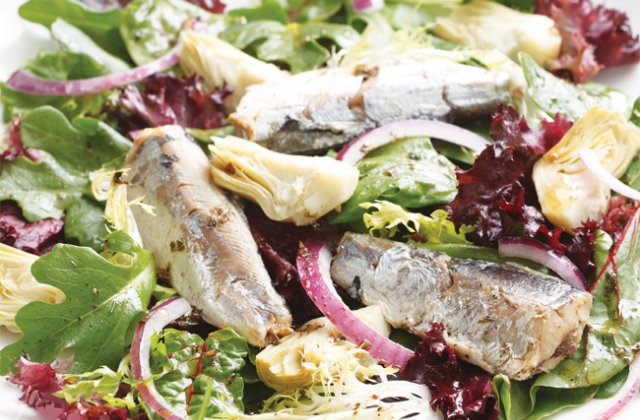 Smoked paprika and sherry vinegar add Spanish flair to the dressing of this artichoke and sardine salad. 

Try this salad for a take-along lunch. To keep the salad greens from getting soggy, pack the greens, salad toppings and dressing in separate containers and toss them together just before eating.

Ingredients (serves 1)
½ cup extra-virgin olive oil
3 tbsp sherry vinegar
1 large shallot, minced
1 tsp Dijon mustard
1 tsp smoked paprika
1 tsp salt
1 tsp freshly ground pepper
3 cups mixed greens
½ cup canned artichoke hearts, rinsed (or fresh prepared)
60 g canned sardines
¼ cup sliced red onion
METHOD
Place oil, vinegar, shallot, mustard, paprika, salt and pepper in a blender or a jar with a tight-fitting lid; blend or shake until well combined.
Place greens in an individual salad bowl; toss with two tablespoons of the dressing. (Refrigerate the remaining dressing.) Top the greens with artichoke hearts, sardines and onion.
Browse more healthy salad ideas>>