Chickpea tabouli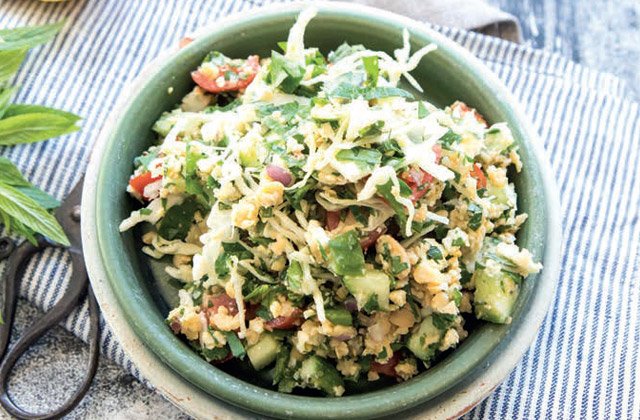 Chickpeas are a great source of fibre, extra protein and calcium. They also provide a tinge of nuttiness to the traditional tabouli dish to deliver a fresh tasting healthy dish everyone will simply love.
SERVES 2 TO 4
Ingredients
¾ punnet cherry tomatoes, cut into quarters
¼ small red onion, finely diced
1 small bunch fresh flatleaf parsley leaves, finely chopped
¼ small bunch fresh mint leaves, finely chopped
½ cup white cabbage, shredded
2 tbsp crumbled fetta
1 x 400 g tin chickpeas
Salt and pepper, to taste
2 tbsps extra-virgin olive oil
1 tbsp lemon juice
Add all the salad ingredients to a large bowl and sprinkle the fetta over the top.
Drain and rinse chickpeas, then blitz in a food processor for 20 seconds or until they are roughly chopped. Add to salad and season to taste.
Drizzle over oil and lemon juice and mix well to combine.