Cha soba salad with seared scallops
Cha soba salad with seared scallops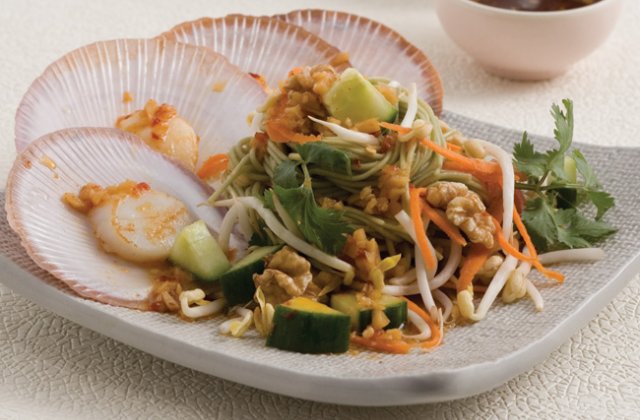 High in vitamin C and low in fat.
Ingredients (serves 4)
270 g packet Hakubaku cha soba green tea noodles
4 cups iceberg lettuce, washed and shredded
1 cup cherry tomatoes, halved
1 cup cucumber, diced
1 cup UFC bean sprouts, chopped
1 carrot, grated
200 g scallops
2 tsp olive oil
2 tbsp lime juice, fresh
½ cup walnuts, chopped
1 bunch coriander leaves, chopped
Dressing
2 tsp Yeo's light soy sauce
2 tsp olive oil
2 tsp Poonsin fish sauce
1 tsp Yeo's sesame oil
1 tsp Yeo's sambal oelek
1 tbsp ginger, grated
Method
Prepare cha soba noodles according to pack instructions and drain.
In a large mixing bowl, gently and thoroughly combine all the vegetable ingredients with the soba. Set aside.
In a small bowl, combine all the dressing ingredients; mix well, then pour over soba mixture.
Divide soba mixture into four portions. Using a large fork or tongs, on four serving plates, form each portion of soba into a neat, round stack.
Lightly coat scallops with olive oil and pan fry until cooked (two to three minutes). Drizzle lime juice over the scallops and add to serving plate. Garnish with remaining walnuts and coriander.
Browse more recipes or connect with us on Facebook!