Greek salad with quinoa (gluten free)
Greek salad with quinoa (gluten free)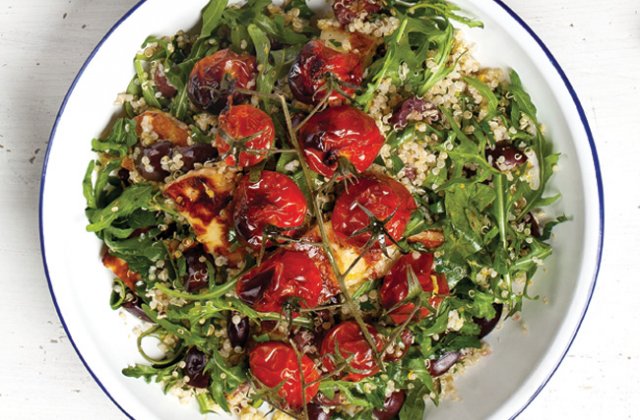 Healthy salad ideas from around the globe.
Ingredients (serves 5)
1 cup quinoa
250g truss baby tomatoes
200g halloumi
2 cups rocket
Zest of 1 lemon
½ cup black olives (with pits)
For dressing
Juice of 1 lemon
2–3 tbsp of extra virgin olive oil
1–2 tbsp balsamic
Pinch salt
METHOD
Rinse the quinoa and place into a saucepan filled with boiling water.
Whilst quinoa is on the stove, place the tomatoes on a baking tray and place in a 180ºC oven for 15 minutes.
Next, cut the halloumi into one-cm thick slices and place in a non-stick fry pan (only grease if necessary). Fry halloumi until golden on each side then take off the heat.
To assemble the salad: place the quinoa, rocket, halloumi and zest of one lemon into a bowl. Tear the olives into halves, throwing away the pits and leaving only the flesh in the salad.
Mix the dressing together in a small bowl and place on the salad. Toss everything together until well combined then finish by putting the roasted sweet truss tomatoes on top.
Serve salad with lemon wedges, extra balsamic and olive oil on the side.
Recipe from Kate Bradley, www.kenkokitchen.com
Photo credit: Elisa Watson