Honey-roasted pumpkin salad with beans, broccolini & hazelnut
Honey-roasted pumpkin salad with beans, broccolini & hazelnut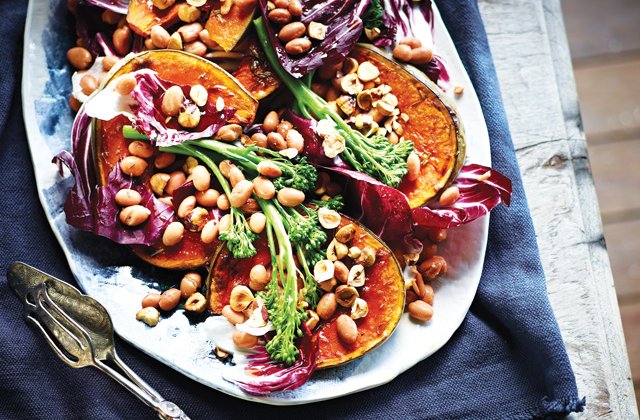 We love this honey-roasted pumpkin salad with beans, broccolini & hazelnut from Chrissy Freer.
Ingredients (serves 4)
1½ tbsp honey
1½ tbsp olive oil
2 tsp coarsely chopped rosemary
800 g pumpkin, seeded and cut into wedges
2 tsp red wine vinegar
250 g broccolini, trimmed
400 g tin borlotti beans, drained and rinsed
1 head radicchio, trimmed and leaves torn
2 tbsp lightly toasted hazelnuts, coarsely chopped
METHOD
Preheat oven to 200°C. Line a large baking tray with paper. Combine 1 tablespoon honey, 1 tablespoon olive oil and the rosemary in a large bowl. Add pumpkin and toss to coat. Place on the prepared tray and roast for 30 to 40 minutes or until golden, turning halfway through the cooking time.
Meanwhile, combine remaining honey and oil and the vinegar in a small bowl. Set aside.
Cook broccolini in a saucepan of boiling water until just tender. Drain. Combine pumpkin, broccolini, borlotti beans, radicchio and hazelnuts in a large bowl. Add honey dressing and gently toss to combine. Season to taste with sea salt and freshly ground black pepper.
*Queensland blue pumpkin has a firm texture after roasting, so it's ideal to use in this salad. Butternut pumpkin (squash) is a good substitute. You can replace the tinned borlotti beans with 255 g cooked borlotti beans.