Mexican avocado, bean & mango salad
Mexican avocado, bean & mango salad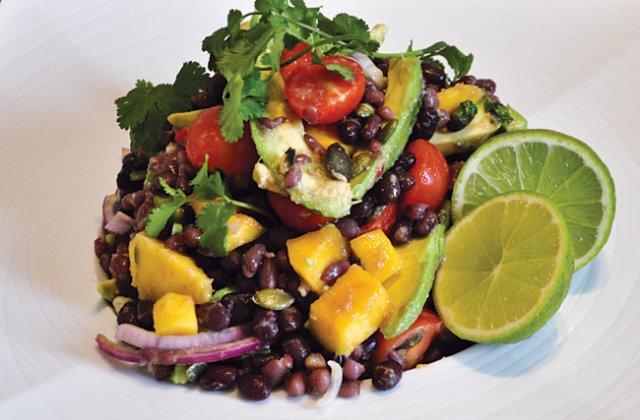 Dorota Trupp shares some healthy salad ideas.
Ingredients (serves 4 entrees or 2 mains)
Zest of one lime
Juice of two limes
3–4 spring onions, roughly chopped
2–3 tbsp chopped coriander
2–3 finely chopped chillies
2 cups cooked red or black beans
1 ripe avocado
1 head iceberg lettuce
1 ripe mango
2 handfuls cherry tomatoes, 
cut in half
1 red onion, peeled and sliced
4 tbsp pumpkin seeds, 
lightly roasted
2 tbsp honey
8 tbsp olive oil
Salt
Method
Mix the lime zest with the lime juice, chopped chillies, honey and oil, and season with salt.
Cut the avocado in half, lengthwise, and then cut into one-centimetre cubes and set aside.
Cut the mango cheeks off the stone, peel them and cut them into similar sized cubes.
Break the iceberg lettuce into mouth-sized pieces.
Place all the ingredients into a bowl and drizzle the dressing over it and mix it all well through. Plate it in a salad bowl.
Photo credit: Trupp Cooking School