Winter kale & 
quinoa salad with carrots & raisins
Winter kale & 
quinoa salad with carrots & raisins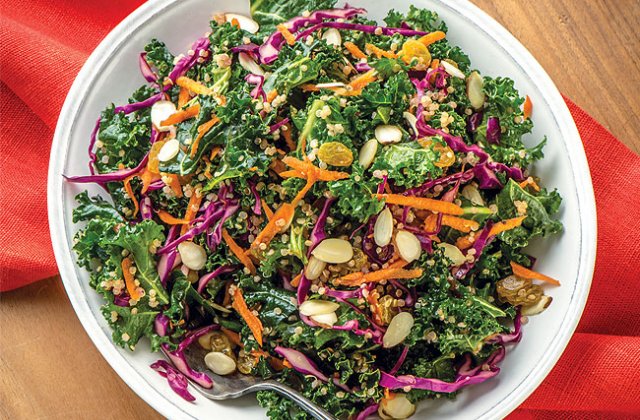 Earthy kale, red cabbage and carrots are accompanied with protein-rich quinoa, toasted almonds and sweet raisins.
The result is a colourful, textured salad, sparked with a citrus vinaigrette that promises to keep the doctor away.
Before tossing the greens, it's essential to massage the kale leaves with lemon juice, oil and salt just long enough to soften the sturdy leaves.
INGREDIENTS (Serves 4-6)
1 large bunch green curly kale, tough veins removed and leaves coarsely chopped

2 tbsp fresh lemon juice

1 tbsp extra virgin olive oil

Pinch of salt

1 large carrot, peeled and shredded

1½ cups (120g) thinly sliced red cabbage

½ cup (90g) cooked quinoa

¼ cup (30g) sliced almonds

¼ cup (45g) golden raisins
Vinaigrette
2 tbsp balsamic vinegar

2 tbsp minced shallots

½ tsp freshly ground black pepper

½ tsp salt

¼ cup (60 ml) extra virgin olive oil
METHOD
Place the kale in a large serving bowl. Add the lemon juice, oil and salt. Massage the kale until it begins to soften, about two minutes. Set aside.
To make the vinaigrette: Whisk the vinegar, shallots, black pepper and salt together in a small bowl. Slowly add the olive oil in a steady stream, whisking constantly to emulsify. Set aside.
Add the carrot, cabbage, quinoa, almonds, and raisins to the kale. Toss with half of the dressing then add the remaining dressing to taste.
NEXT: Avocado and kale miso noodles>>
Photo credit: Robert Holmes