Grapefruit, haloumi & mint salad
Grapefruit, haloumi & mint salad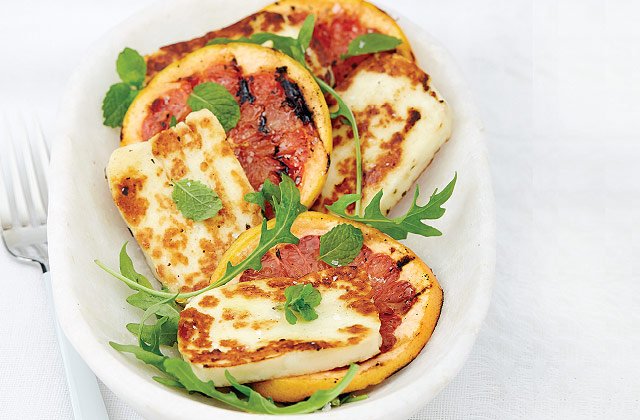 This grapefruit, haloumi and mint salad is a great summer dish. Lightly grill the grapefruit on the barbecue before serving.
Ingredients (serves 2)
1 ruby red grapefruit, thinly sliced
250g block haloumi, thinly sliced
¼ bunch fresh mint, roughly torn
1 cup baby rocket
Freshly cracked pepper and sea salt, to taste
For the dressing
Juice of ½ ruby red grapefruit
2 tbsp olive oil
1 tsp Dijon mustard
Method
Heat a large griddle pan or your barbeque on high heat. Place the sliced grapefruit directly onto the griddle and cook for four minutes both sides, or until the grapefruit softens and begins to char. Set aside.
Whisk the grapefruit juice, olive oil and mustard together to form a dressing and set aside.
Heat a medium-sized fry pan to a high heat and place the haloumi directly onto the pan. Cook for two minutes then flip, cooking the other side for a further two minutes until crispy and golden.
Lay the rocket out onto a serving platter and place the warm haloumi and grapefruit on top. Scatter with the mint and drizzle with the salad dressing. Season with salt and pepper and eat immediately. The haloumi is best eaten piping hot.
Recipe from Gemma Lush; photo credit: Phu Tang