Quinoa, broccolini and asparagus salad
Quinoa, broccolini and asparagus salad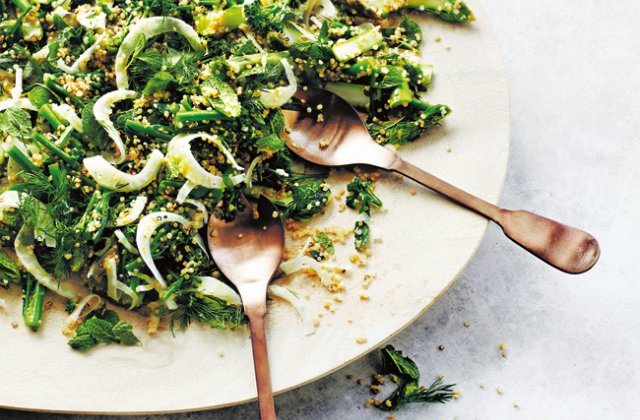 Love recipes with quinoa? Try this broccolini and asparagus salad for a fresh, fast and fuss-free fare.
Ingredients
2 heaped tbsp low-fat Greek yoghurt
Sea salt and cracked black pepper
2 small handfuls mint leaves
2 pinches ground cumin
150 g quinoa
1 bunch broccolini, ends trimmed and cut into 3 cm lengths
1 bunch asparagus, ends trimmed and cut into 3 cm lengths
1 bulb baby fennel
1 tbsp salted baby capers, rinsed and roughly chopped
1 small handful dill, chopped
1 lemon, zested and juiced
Extra-virgin olive oil, for drizzling

Method
Place yoghurt in a bowl and season with salt and pepper. Finely chop half the mint leaves and mix into the yoghurt. Sprinkle with a pinch of cumin, then cover with plastic film and place in the fridge until needed.

Toast the quinoa in a heavy-based saucepan over medium heat, stirring constantly, for 2 minutes. Add 2 cups water and bring to the boil, then reduce heat and simmer for 15 minutes. Turn off the heat and set aside, covered, for 5 minutes to allow quinoa to absorb any remaining liquid. Transfer to a large bowl and place in the fridge, uncovered, to cool. Meanwhile, bring a saucepan of salted water to the boil and blanch the broccolini and asparagus for 1 minute, then drain and refresh under cold water to stop the cooking process. Set aside.

Remove the stalks from the fennel bulb, reserving the fronds. Cut the fennel in half lengthways, then slice into thin strips and place in a bowl of iced water to keep it fresh and crisp.

Remove cooled quinoa from fridge. Add broccolini, asparagus, fennel, capers, dill, lemon zest and juice, remaining mint leaves and pinch of cumin, reserved fennel fronds and a good drizzle of olive oil. Mix carefully so you don't bruise the herbs then season with salt and pepper, to taste. Serve with a dollop of the mint and cumin yoghurt on top.
Recipe and images from The Chef Gets Healthy by Tobie Puttock