Roasted eggplant salad (vegan)
Roasted eggplant salad (vegan)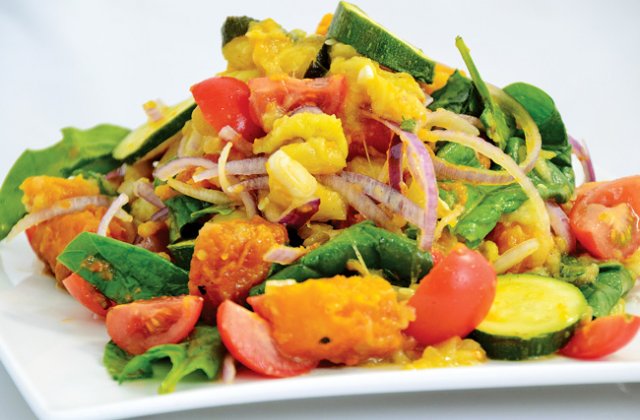 A healthy vegan salad that's high in fibre and iron.
Ingredients (serves 2)
2 cups pumpkin, cubed
2 eggplants
2 zucchinis
1 spanish onion, sliced finely
1 cup cherry tomatoes, quartered
2 cups baby spinach leaves
Dressing
Juice of 1 lemon
3 tbsp good quality extra virgin olive oil
1 garlic clove, minced
Salt and pepper to taste

Method
Preheat oven to 200ºC.
Arrange the pumpkin on a baking tray, prick the eggplant and zucchini with a fork and bake for 45 to 60 minutes, until the pumpkin is tender and the eggplants and zucchinis are soft inside.
When they are cool enough to handle, slice them down the middle and scoop out the flesh.
Roughly chop the cooked eggplant and zucchini and set aside.
In a large bowl, mix the sliced onion, cherry tomatoes and spinach leaves together.
Gently toss through the cooked pumpkin, eggplant and zucchini.
Whisk together the dressing ingredients and drizzle over just before serving.
Recipe from Adele at vegiehead.com
NEXT: Browse more healthy salads>>