Chicken and roast pumpkin salad
Chicken and roast pumpkin salad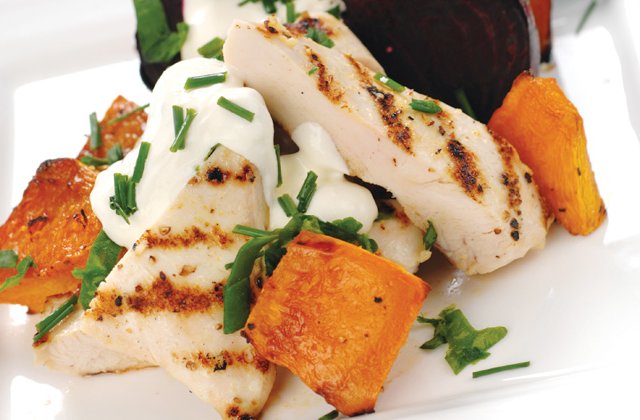 Add baby beetroot, pumpkin and sour cream to a grilled chicken salad.
Ingredients (serves 1)
3 tbsp fresh finely cut chives
1 tbsp light sour cream (optional)
1/2 tsp olive oil
150g skinless chicken fillet, sliced
3 baby beetroot
½ cup pumpkin
lemon
pepper
Cut the pumpkin into small pieces and place on a baking tray lined with baking paper. Clean the baby beetroots and also place onto the baking tray. Spray a little oil over the top of the vegetables. Place into a pre-heated oven at 180ºC and cook for 15 minutes on each side.
While the vegetables are roasting, season chicken fillet with lemon pepper and place in hot griller. Cook for about 5 minutes each side. Take the chicken out and allow it to rest for a further 10 minutes by covering it with some foil.
Take the vegetables out of the oven and allow them to cool for a few minutes. Peel the skin off the beetroot and cut them into halves.
Cut the chicken into slices and place the vegetables around. Add the light sour cream over the top along with the fresh chives. This dish can be served warm or cold.