Buffalo mozzarella, capsicum and lentil salad
Buffalo mozzarella, capsicum and lentil salad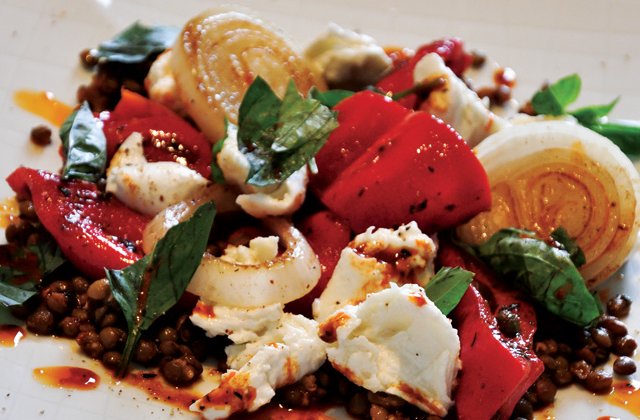 Nutritionist Dorota Trupp shares some of her tasty salad recipes.
Ingredients (serves 4)
1 salad onion
Extra virgin olive oil
1 tsp butter
2 large red capsicums
2 tbsp sherry vinegar
1 tsp chopped thyme
1 tsp smoked paprika
1 cup of cooked green lentils
1 tsp salted capers
Freshly ground pepper
2 balls fresh buffalo mozzarella
½ bunch basil
Methods
Peel and cut the onion into four to five thick slices.
Heat the butter in a pan and roast the onion slices golden brown (one minute on only one side), without letting them fall apart too much (as they will still be half raw) and carefully remove the onions from the pan.
In-between, cut the capsicum lengthwise in half and remove the seeds. Cut each capsicum half into three to four pieces and roast in the pan after removing the onions.
Cook until half cooked and remove the pan from the heat.
Add the chopped thyme, capers and smoked paprika and cover with a lid and rest for 10 to 15 minutes.
Dress the capsicum with half the olive oil, balsamic vinegar, salt and pepper and finally add the cooked green lentils.
Arrange the capsicum and lentil salad onto plates and garnish with the roasted onions and broken up mozzarella and roughly torn basil leaves.
Drizzle with extra olive oil and add another grind of pepper.
Photo credit: Trupps' Cooking School