Cajun lamb strips with summer salad
Cajun lamb strips with summer salad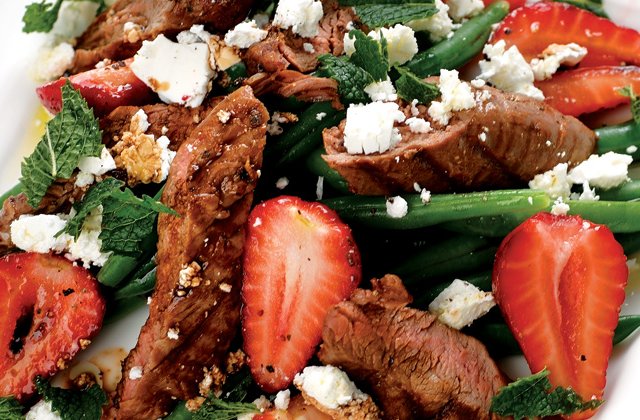 Add strawberries, green beans and feta to cajun lamb strips to create a tasty summer salad
Ingredients (serves 2)
100g or two lamb strips
1 cup green beans
4 strawberries (halved)
1 tbsp smooth reduced-fat fetta
1 tbsp finely chopped mint
1 tsp extra virgin olive oil
1 tsp balsamic vinegar
1 tsp Cajun spice
Olive oil
Method
Preheat a grill to medium heat. Coat the lamb in Cajun spice and add a tsp of olive oil on the grill. Cook lamb for 3-5 minutes on each side. Once cooked, cover with foil and allow to rest for about 5 minutes.
Place a water-filled saucepan over a high heat. Once boiling, add the beans and simmer for about 1 minute. Drain the beans and run under cold water until the beans are cooled right through. Place to one side.
Wash strawberries. Cut the lamb strips into smaller pieces diagonally against the grain. Layer ingredients onto a place: beans, then lamb pieces, then strawberries, fetta and chopped mint. Finally, add the oil and balsamic vinegar and serve immediately.