Strawberry, melon & avocado salad
Strawberry, melon & avocado salad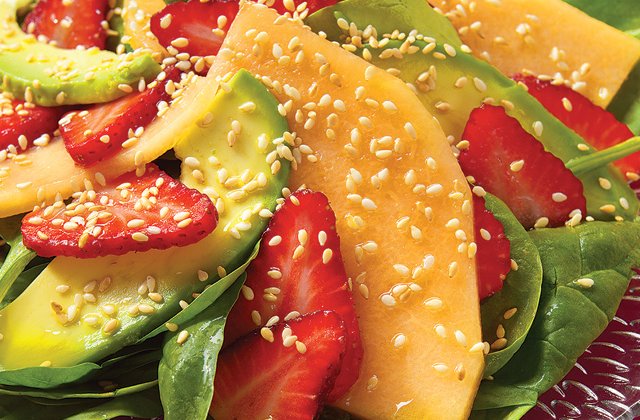 Nutty and slightly sweet sherry vinegar is a natural partner for strawberries. This composed salad makes a cool kickoff for dinner or a nutrition-packed lunch on its own.
Ingredients (serves 4)
¼ cup honey
2 tbsp sherry vinegar or red-wine vinegar
2 tbsp finely chopped fresh mint
¼ tsp freshly ground pepper
Pinch of salt
4 cups baby spinach
1 small avocado, peeled, pitted and cut into 16 slices
16 thin slices rockmelon (about ½ small rockmelon), rind removed
1 ½ cups hulled strawberries, sliced
2 tsp sesame seeds, toasted (see Tip)
Method
Whisk honey, vinegar, mint, pepper and salt in a small bowl.
Divide spinach among four salad plates. Arrange alternating slices of avocado and rockmelon in a fan on top of the spinach. Top each salad with strawberries, drizzle with dressing and sprinkle with sesame seeds.

Recipe 
Tips & Notes: To toast sesame seeds, heat a small dry skillet over low heat. Add sesame seeds and stir constantly until golden and fragrant, about two minutes. Transfer to a small bowl and let cool.