Thai chia curried salad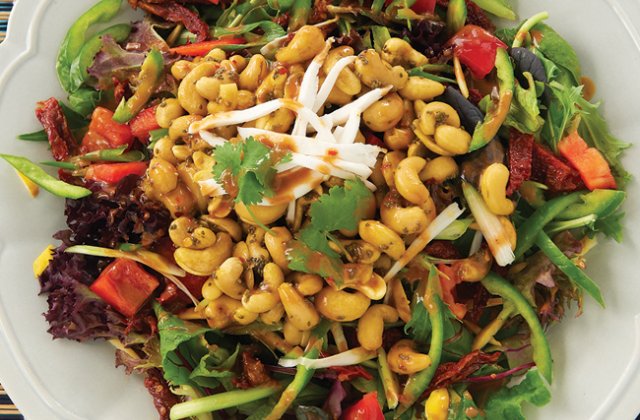 Bored of the traditional salad? Try this curried chia salad with capsicums, sundried tomatoes and avocado.
Ingredients (serves 4)
4 cups mixed salad leaves
½ cup sundried tomatoes, 
finely chopped
1 avocado, sliced
½ red capsicum, chopped
½ yellow capsicum, chopped
½ green capsicum, chopped
1 tbsp chia seeds
1 spring onion/scallion, 
finely chopped
1 tbsp dessicated or 
sliced coconut
½ cup flat leaf parsley
½ cup Spicy Chia Cashews 
(see recipe below)
½ cup Thai Chia Dressing 
(see recipe below)
Handful coriander leaves, 
to garnish
Pinch sea salt
Cracked pepper to taste
METHOD
Place salad leaves in a large salad bowl. Add sundried tomato, avocado and capsicum. Sprinkle over chia seeds. Top with spring onions, coconut, flat leaf parsley and spicy cashews.
Add the salt and pepper, Thai chia dressing and toss gently. Garnish with coriander.
Thai Chia Dressing
Ingredients (Makes 2 cups)
½ cup chia seeds
½ cup sesame oil
½ cup soy sauce
½ cup olive oil
½ cup lime juice
1 tbsp maple syrup
2 Thai chilies, deseeded and sliced or 1 ½ teaspoons chili flakes
1 tsp sea salt
½ cup cashew nuts, soaked 1-2 hours and drained
METHOD
Blend all ingredients until smooth. Spicy Chia Cashews

Spicy Chia Cashews
Ingredients (serves 6)
2 cups raw cashews soaked for
1-2 hours and drained
1 tbsp agave syrup
2 tbsp maple syrup
1 tsp turmeric
1 tsp curry powder
Pinch chili flakes
1 tbsp chia seeds
Pinch sea salt
METHOD
Place drained nuts in a bowl and add agave, maple syrup, turmeric, curry powder, chili flakes and salt. Mix until well coated.
Bake on low heat for 10 to 15 minutes. Add chia seeds. Add to salads or keep in a clean, glass jar in the fridge.
NEXT: Chia chocolates recipe>>
Recipe from Cooking With Chia by Nicky Arthur; Photo credit: Graeme Gillies