Roasted pear and lentil salad
Roasted pear and lentil salad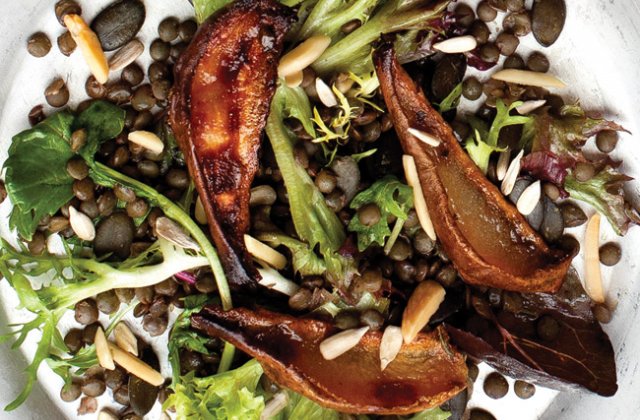 Try this simple and delicious lentil salad as a side or add grilled meat for a wholesome dinner idea.
Ingredients (serves 2–4)
2 pears
2 tbsp rice malt syrup
¾ tsp salt
1 tsp plant-based oil
400 g brown lentils
2 tbsp pepitas
1 tbsp sunflower seeds
2 cups mixed salad leaves
2 tbsp orange juice
1 tsp hibiscus vinegar
1 tbsp olive oil

Method
Preheat the oven to 180°C (350°F).

Slice the pears and place them in a bowl with the rice malt syrup, half the salt and the plant-based oil. Toss everything together to coat the pears.

Place the pears on a baking tray and bake for 15 minutes until nicely roasted.

Drain and rinse lentils and place them in a bowl with the pepitas, sunflower seeds, remaining salt and mixed salad leaves. Mix together and place in two to four serving bowls or plates. Top with the roasted pears.

In a small bowl combine the orange juice, hibiscus vinegar and olive oil and lightly drizzle this dressing over the salad at the last minute before serving.
Recipe and images by Kate Bradley

NEXT: Quinoa, broccolini and asparagus salad