Green mango salad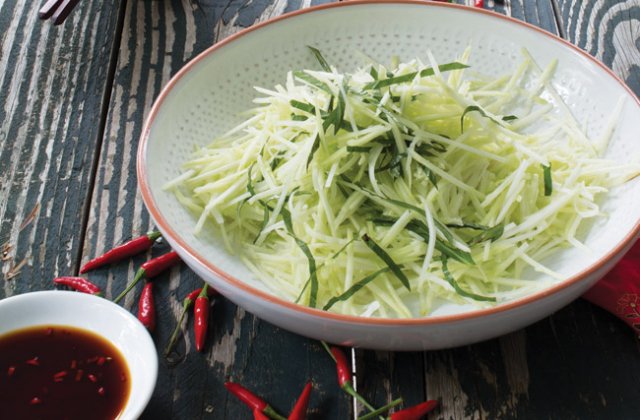 This mango salad provides a fresh tang to balance out the flavour of savoury dishes.
Ingredients (serves 4-6)
For the dressing
2 tbsp tamari
2 tbsp rice wine vinegar
½ tsp fresh minced garlic
1 tsp pure maple syrup
1 bullet chilli, seeds removed and finely diced
Vegetarian fish sauce to taste, optional
For the salad
4 firm, green nam doc mai (Asian mango)
1 cup Vietnamese mint leaves
1 cup Thai basil leaves
½ cup raw peanuts, roughly chopped, optional

METHOD
Whisk all the dressing ingredients until well combined. I suggest adding the chilli bit by bit because they can be hit and miss, heat wise.
Wash the mint and basil leaves to remove any dirt. Then very finely slice them lengthwise.
Peel the nam doc mai. Discard the peel and cut the flesh into a fine julienne with a mandolin or knife.
Mix the nam doc mai, herbs and dressing together. Serve garnished with peanuts, if desired.
Recipe and images by Mel B
You might like: Yellow curry fried rice