Spicy fish & mango salad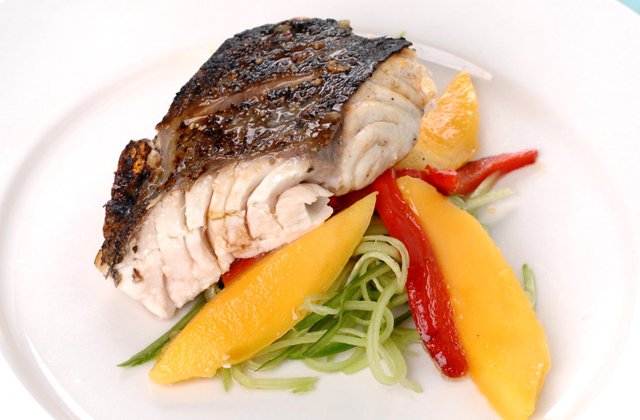 1 mango
1 Lebanese cucumber, sliced
½ green or red capsicum char-grilled and cut into thin strips
1 tbsp fresh coriander (chopped)
2 tbsp fresh lime or lemon juice
1 tsp fresh ginger, grated
1 tbsp light soy sauce
1 tbsp sweet chilli sauce
2 fish fillets (about 200g)
Olive oil
Method
Peel mango and slice into thin strips. Place into a bowl with capsicum and cucumber and toss.
In another small bowl, mix together lemon juice, ginger, soy sauce, sweet chilli sauce and chopped coriander. Set aside while cooking fish.
Preheat a char-grill or barbecue. Rub fish fillets with a little oil and cook over high heat for 3-4 minutes on each side or until cooked.
Place some salad on each plate and top with cooked fish fillet.
Drizzle dressing over fish and serve.