Moroccan
 salad with freekeh (vegan)
Moroccan
 salad with freekeh (vegan)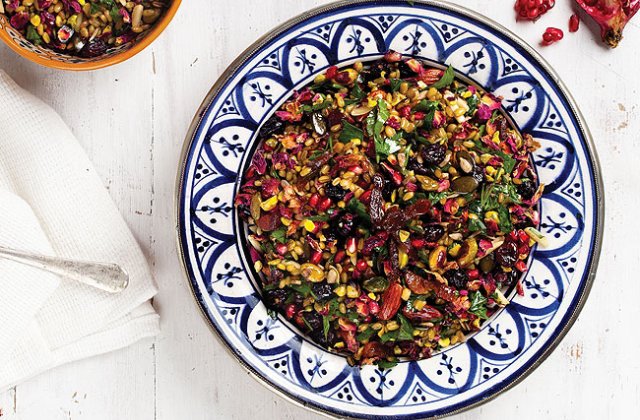 Swap your normal 'next door' salad for this tasty Moroccan dish.
Ingredients (serves 5-6)
1 cup freekeh
¼ cup Turkish apricots
¼ cup slivered almonds
¼ cup sunflower seeds
¼ cup pepitas

1

⁄

3

cup pistachios
2 tbsp pine nuts
¼ cup currants
¼ cup whole dried cranberries
1 pomegranate, deseeded
2 tbsp olive oil
½ tsp pink lake sea salt
1 bunch flat leaf parsley
¼ cup whole roasted almonds
3 tsp pomegranate molasses

1

⁄

3

cup rose petals
Method
Cook freekeh in a pot of boiling water for 25 to 30 minutes until tender. Drain, rinse under cold water and set aside in a salad bowl.
Finely chop the Turkish apricots into threads and place into a non-stick fry pan with the slivered almonds, sunflower seeds, pepitas, pistachios and pine nuts and gently dry roast until golden (around one to two minutes). Remove from heat, ensuring they do not burn, and set aside to cool.
Into the freekeh add the currants, whole cranberries and ¾ of the pomegranate seeds. Stir through with one tablespoon of olive oil and the sea salt.
Chop up the parsley and mix in. Once nut/seed mixture has cooled, stir through the freekah mixture with the whole almonds. Drizzle on the pomegranate molasses and olive oil and combine.
Just before serving add the rose petals and mix in.
Top with the remaining pomegranate seeds, a sprinkle of rose petals, pistachios and cranberries.
NEXT: Mexican salad recipe (gluten free)
Recipe from Kate Bradley, www.kenkokitchen.com
Photo credit: Elisa Watson