Mexican salad (gluten free)
Mexican salad (gluten free)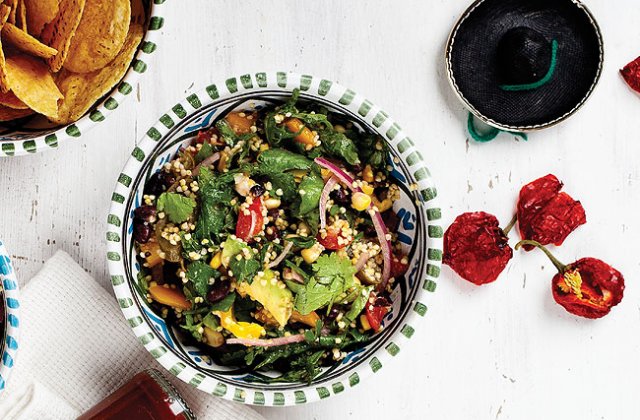 A tasty Mexican salad that combines avocado, black beans, millet and jalapeños.
Ingredients (serves 5)
1 cup millet
1 cob of corn (husk and silk removed)
1 tbsp rice bran oil
1 small red onion
200g ripe tomatoes
½ yellow capsicum

1

⁄

3

cup fresh or jarred jalapeños
1 bunch coriander
400g black beans (cooked or tin)
½ tsp pink lake sea salt
1 tbsp olive oil
2 tsp Tabasco
1 small avocado
Juice of 2 limes
Rind of 1 lime
Gluten-free corn tortillas to serve
Method
Place millet into two cups of boiling water and simmer for 15 minutes until water has absorbed and millet is cooked. Place millet into a bowl (draining any excess liquid first) and fluff using a fork. Set aside.
Remove corn kernels from the cob and place in a non-stick fry pan with one tablespoon of rice bran oil. Let corn grill until golden and remove from heat. Place on top of the millet.
Finely slice the red onion, dice the tomatoes and capsicums and slice the jalapeños. Throw into the bowl with the millet and corn.
Browse more healthy salad ideas or connect with us on Facebook!
Recipe from Kate Bradley, www.kenkokitchen.com; Photo credit: Elisa Watson