Roasted vegetable and quinoa salad (vegan)
Roasted vegetable and quinoa salad (vegan)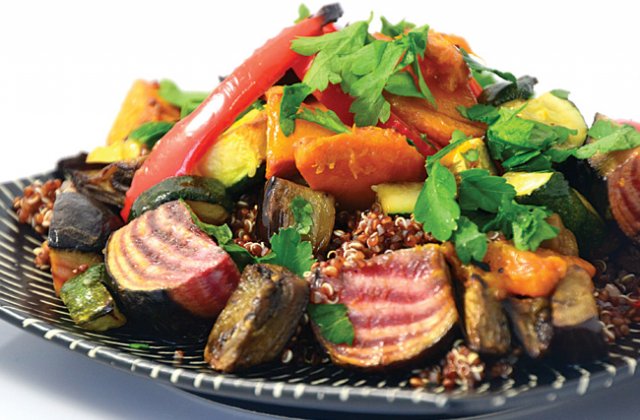 Adele from Vegie Head shares some tasty quinoa recipes.
Ingredients (serves 2)
1 cup red or white quinoa, rinsed
and drained
2½ cups water
1 small red chilli, sliced and de-seeded
1 purple carrot, sliced
1 carrot, sliced
1 zucchini, sliced
1 Spanish onion, quartered
4 slices of butternut pumpkin
2 cups mixed greens and herbs (I used fresh rocket, cos, basil, oregano, parsley, coriander, daikon, radish
and rocket microgreens, and buckwheat sprouts)
Juice of ½ lime
Fresh pepper
Black sesame seeds
Optional:
Good quality extra virgin olive oil
Tahini
Fresh hommus, to serve
METHOD
Pre heat oven to 200°C. Roast vegetables for 50 to 60 minutes or until cooked, but not too soft.
In a large pot, cook the quinoa in the two cups of water for 15 minutes.
Add the chilli and cook with the quinoa. Drain the quinoa and chilli and rinse under cold water (or allow to cool at room temperature).
In a large bowl, toss the quinoa with the greens and lime juice.
Add the roasted vegetables and gently mix, layering the pumpkin on the top.
Sprinkle with the sesame seeds.
Serve with fresh pepper, olive oil, tahini and hommus.
Recipe from Adele at Vegiehead.com.
Browse more healthy salad ideas>>