Red quinoa, beetroot & blood orange salad (GF)
Red quinoa, beetroot & blood orange salad (GF)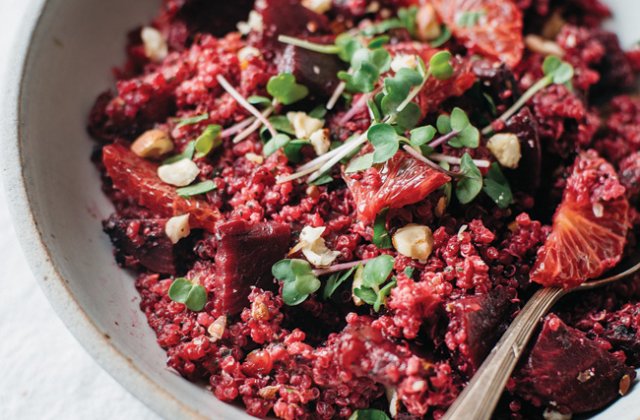 Looking for healthy lunch ideas? Try this red quinoa, beetroot and blood orange salad with chimichurri dressing.
Ingredients
Chimichurri
1 bunch parsley, roughly chopped
2 small garlic cloves
1 tsp fine-grain sea salt
1 tsp chili flakes
1 tbsp apple cider vinegar
1⁄3 cup extra-virgin olive oil
Salad
3 medium red beetroots, washed
1 cup red quinoa, rinsed
2 blood oranges, peeled and segmented
Juice from half of an orange
Course sea salt
Extra-virgin olive oil
To finish
Big handful sprouts/micro greens
Handful chopped parsley
¼ cup toasted hazelnuts, chopped
METHOD
Chimichurri
Place chopped parsley, garlic, salt, chili flakes, vinegar and olive oil into a food processor or upright blender and blend, scraping down the sides until thoroughly combined. Taste and adjust seasoning if needed. Transfer to a lidded jar and refrigerate until ready to use.
Salad
Preheat oven to 200°C. Wrap beets in foil, prick all over with a fork and coat in olive oil. Secure foil in a packet, place on a rimmed baking sheet and bake for one hour, or until tender.
Remove from oven and allow to cool. Once cool, slip beet skins off, rinse and pat to dry. Cut into eighths then slice into small chunks. Set aside.
Place rinsed quinoa, along with a big pinch of salt, into a saucepan and cook according to directions on packet. Once cooked, remove from heat and set aside.
In a large bowl, combine beets and quinoa, add orange segments, chimichurri sauce, and orange juice. Toss to combine.
Serve warm, topped with sprouts, chopped parsley, and chopped hazelnuts.
Recipe from blogger Lindsey Love from Dolly and Oatmeal.