Grape and fennel salad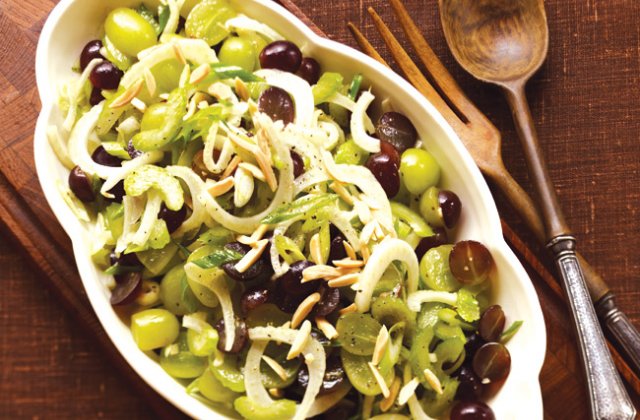 Fennel is a great addition to summer salads.
Ingredients (serves 8)
2 tbsp extra-virgin olive oil
2 tbsp white-wine vinegar
½ tsp fennel seeds, lightly crushed
1 tsp salt
1 tsp freshly ground pepper
5 cups red and green seedless 
grapes, halved
1 large fennel bulb, halved, cored and thinly sliced
3 stalks celery, thinly sliced 
on the diagonal
4 spring onions, thinly sliced 
on the diagonal
3 tbsp slivered almonds, toasted 
(see Tip)
Method
Whisk oil, vinegar, fennel seeds, salt and pepper in a large bowl. Add grapes, fennel, celery and spring onions; toss to coat. Serve topped with almonds.
Tip: To toast chopped, small or sliced nuts, cook in a small dry pan over medium-low heat, stirring constantly, until fragrant and lightly browned, two to four minutes.
Browse more salad ideas to connect with us on Facebook.