Japanese salad with eggplant (vegan)
Japanese salad with eggplant (vegan)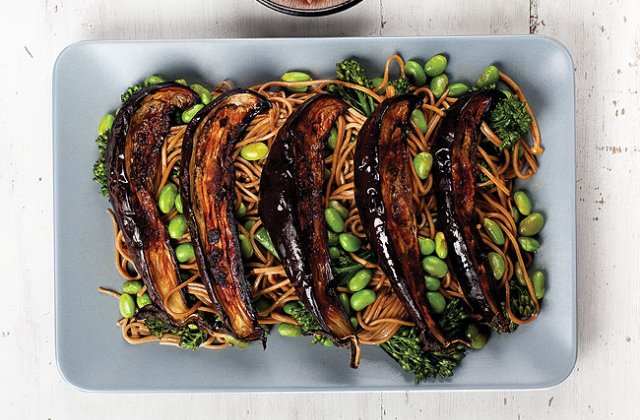 Looking for healthy salad ideas? We love this Japanese salad with eggplant, buckwheat noodles, edamame and fresh wasabi.
Ingredients (serves4)
1 large eggplant
3 tbsp miso paste
1 tbsp rice bran oil
100g buckwheat soba noodles
1 cup enoki mushrooms
2 tbsp sesame oil
2 tbsp organic tamari
1 bunch brocollini

1

⁄

3

cup frozen edamame
Fresh wasabi, pickled ginger and extra tamari to serve
Method
Cut the eggplant into five to six wedges length-wise. Then rub the eggplant wedges with two tablespoons of the miso paste and the rice bran oil then place on an oven tray lined with baking paper. Cook the eggplant for 20 to 30 minutes until golden and soft, flipping the eggplant wedges over halfway in between.
In a pot of boiling water, cook the soba noodles for five to 10 minutes until just al dente, strain, rinse and set aside in a bowl of cold water to prevent the noodles from cooking further and sticking together.
Cut off the ends of the enoki mushrooms and wash thoroughly. Place in a fry pan with the sesame oil and cook for two minutes. Add in your remaining miso paste, tamari and brocollini. Add in the edamame and cook for a further two minutes. Then add in the soba noodles, coating in the tamari/miso sauce and turn off from the heat (broccolini and edamame should still have a slight crunch and be vibrant in colour).
Recipe from Kate Bradley, www.kenkokitchen.com; Photo credit: Elisa Watson