Mexican stuffed, baked sweet potatoes (GF & vegan)
Mexican stuffed, baked sweet potatoes (GF & vegan)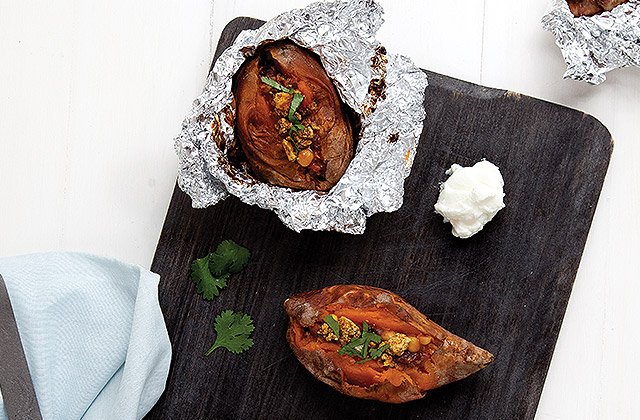 Looking for quick and easy recipes? These stuffed baked sweet potatoes are gluten free and suitable for vegans.
Ingredients (serves 4)
4 small sweet potatoes

½ red onion

1 chipotle chilli

1 red chilli

2 cloves garlic

1 tbsp tomato paste

¼ tsp sweet paprika

½ tsp cumin seeds

½ cup chopped tin tomatoes

½ cup cooked black beans

1 cob organic corn

175g firm organic tofu

Pink lake sea salt
To serve
Handful of coriander

4 tbsp natural yoghurt
Method
Preheat your oven to 180ºC. Prick the sweet potatoes with a fork, season with a pinch of pink lake sea salt and individually wrap each potato in foil. Place the sweet potatoes in the preheated oven for around 20 minutes until soft to touch.
While the potatoes are in the oven, place the red onion, chillis, garlic, tomato paste, spices and tinned tomatoes into a processor. Blitz until smooth.
In a small saucepan, place the black beans and corn (removed from cob). Crumble in the tofu and add in the salsa made in the processor. Let simmer over a low heat for 15 to 20 minutes. Season with salt and pepper.
Remove sweet potatoes from the oven and cut each potato open. Gently squeeze open the jackets and place some tofu/black bean filling in each potato. If taking for lunch, place into a container and enjoy later!
Serve with coriander and yoghurt.
Recipe from Kate Bradlet at Kenko Kitchen.