Spicy eggplant rolls 
with rosemary mash
Spicy eggplant rolls 
with rosemary mash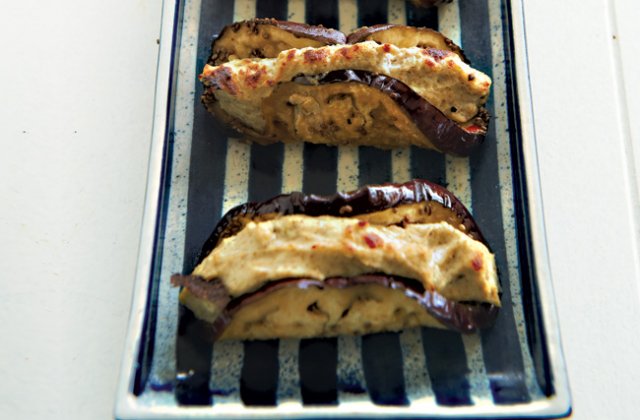 Spicy eggplant rolls 
with rosemary mash make a great appetiser or snack.
INGREDIENTS (serves 4)
½ large eggplant thinly sliced lengthwise
1 tbsp sea salt
Marinade
½ tbsp sea salt
½ dried Thai chilli
¼ cup water
1 tbsp maple syrup
2 tbsp olive oil
1 tbsp soy sauce
1 tbsp apple cider vinegar
Pinch of chilli flakes
¼ tsp cumin seeds
1 tbsp chia seeds
Pinch black pepper
Rosemary mash
2 cups cauliflower, chopped
1 cup raw cashew nuts, soaked
1–2 hours, drained
2 tsp dried rosemary
1 tbsp fresh rosemary
1 tbsp chia seeds
2 tsp garlic powder
1 tsp nutritional yeast
METHOD
Place eggplant and salt in a bowl, toss well and allow to sit for one to two hours.
Blend all marinade ingredients and place in a small bowl.
Squeeze any liquid from eggplant and add slices to the marinade. Allow to marinate for 30 minutes.
To make the rosemary mash, in a saucepan, boil the cauliflower until soft. Drain and put in food processor and blend until smooth. Add in the remaining mash ingredients and blend well until fluffy and creamy.
Preheat oven to 180°C. Roll the mash inside each of the eggplant slices and use skewers to hold them together. On a lined baking tray, bake for 15 to 20 minutes or until soft and golden.
NEXT: Roasted eggplant salad>>
Recipe from Cooking With Chia by Nicky Arthur; Photo credit: Graeme Gillies