Raw lasagne with walnut pesto
Raw lasagne with walnut pesto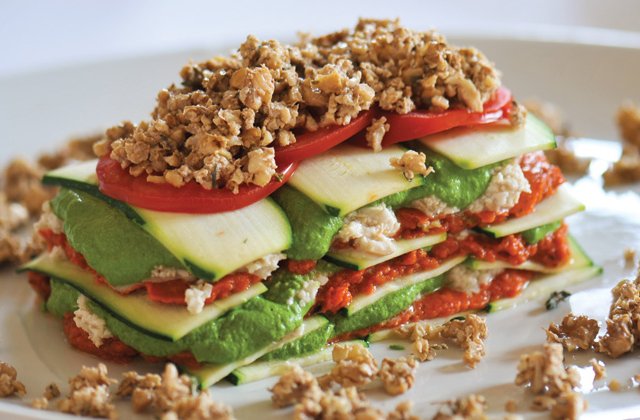 Delicious vegetarian recipes from Dorota Trupp
Ingredients (serves 2)
1 medium zucchini, sliced thin, lengthways
1 tomato, sliced thin
1 cup of tomato sauce (see below)
Walnut Pesto (see below)
Walnut Crumbles (see below)
Tomato Sauce ingredients
1 small clove garlic
1 cup semi-dried tomatoes
¼ cup olive oil
Juice of ½ lemon
4 soft and pitted raw dates
2 tbsp water (if needed)
1 tsp chopped oregano or thyme
Blend to a paste in a food processor.
Walnut Pesto ingredients
1 clove garlic
1 bunch of basil picked off the stems
1⁄3 cup olive oil
½ cup walnuts
Juice from ½ lemon
Blend in a food processor until a paste is formed.
Walnut Crumbles ingredients
2 cups walnuts
1 tsp oregano
1 tsp thyme
1 tsp marjoram
2 tbsp Shoyu soy sauce
Pepper to taste
Place all ingredients in food processor and blend till a coarse crumb is achieved.
Method
Place a layer of zucchini on a plate. Top with cherry tomato pulp, fresh tomato slices and walnut pesto.
Top with a layer of zucchini and layer with tomato pulp and pesto again.
Sprinkle top with walnut crumbles.
Photo credit: Trupp Cooking School