Raw pizza with mushrooms & walnut pesto
Raw pizza with mushrooms & walnut pesto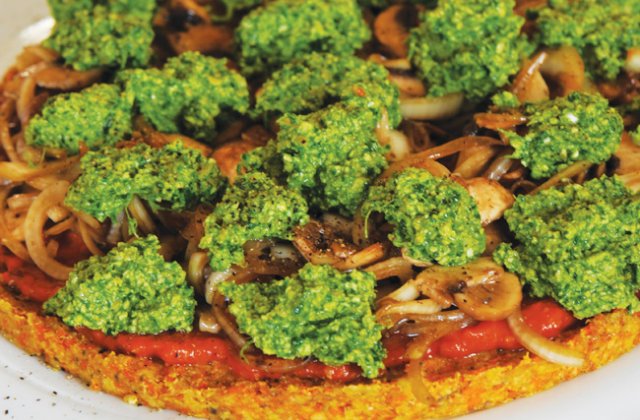 Dorota Trupp shares some of her favourite raw food recipes.
INGREDIENTS
Buckwheat Crust
• 1 cup buckwheat, sprouted
• ¼ cup olive oil
• ½ cup walnuts, soaked overnight and drained
• 3 carrots, roughly grated
• 1 tsp dried oregano
Method
To sprout buckwheat, soak one cup of buckwheat in water overnight.
Drain (the water will be slimy, so drain and rinse several times), place onto tray and cover with a wet towel. Ensure the towel is wet all the time and place onto a warm spot until tails are one centimetre long. This will take one to two days.
Place the sprouted buckwheat, carrots, oregano, walnuts and olive oil in the food processor and pulse until a mash is achieved.
With a cake ring, form into six four-inch squares on a sheet of baking paper and dehydrate at 55°C in a dehydrater, or oven, until the tops are dry. Remove from the sheet and continue to dehydrate until mostly dry but not too brittle.
Marinated Mushrooms 
and Onions
• 1 cup mushrooms, sliced
• 1 cup onions, sliced thin
• ¼ cup olive oil
• ¼ cup Shoyu soya sauce
• 2 tbsp agave syrup
Method
Toss together mushrooms, onions, olive oil, Shoyu, syrup and marinate for four hours.
Dehydrate at 55°C for four to five hours.
Tomato Sauce
• 1 small clove garlic
• 1 cup semi-dried tomatoes
• ¼ cup olive oil
• Juice from ½ lemon
• 4 soft and pitted raw dates
• 2 tbsp water (if needed)
• 1 tsp chopped oregano or thyme
Method
Blend to a paste in a food processor.
Cashew Cheese
• ¾ cup cashews, soaked overnight, drained
• 1 tsp lemon juice
• Salt and pepper
Method
Place all ingredients in food processor and blend until a creamy consistency is achieved. Add a little water if necessary.
Walnut Pesto
• 1 clove garlic
• 1 bunch basil, picked off the stems
• 1⁄3 cup olive oil
• ½ cup walnuts
• ½ lemon, juice from
Method
Blend in a food processor until a paste is formed.
To serve: Place crust on plate. Spread a layer of tomato sauce, then a layer of the walnut pesto, some of the cashew cheese, the mushroom onion mixture and then top with more cheese and onions.