Epic pumpkin pie pancakes
Epic pumpkin pie pancakes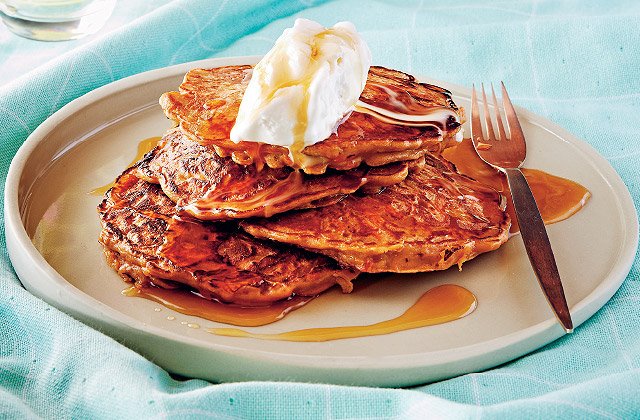 Ingredients (serves 8)
2 cups grated pumpkin (Jap or butternut work well)
2 cups quinoa flour
1 cup almond milk
½ cup coconut sugar (or maple syrup)
3 eggs
Pinch of salt flakes
½ tsp pumpkin pie spice mix (see tip)
2 tbsp coconut oil
Maple syrup and coconut ice cream, to serve
Method
In a large bowl, mix the pumpkin, quinoa flour, almond milk, coconut sugar and eggs, then add a pinch of salt and the pumpkin pie spice mix. If the mixture isn't runny enough, add more almond milk until you get the consistency you're after (I like mine thick).
Pop the coconut oil into your frying pan over a medium heat and pour in about ¼ cup of your mixture. Cook on one side for 2 to 3 minutes until the edges start to go golden and you can see bubbles starting to appear in the middle. Flip the pancake – it will only need a minute or so on the other side – then remove from the pan, keep warm and repeat with the rest of the mixture.
Serve with maple syrup and coconut ice cream. This not only makes an ace brekkie but it's also a pretty impressive dessert.