Massaman potato & lentil curry
Massaman potato & lentil curry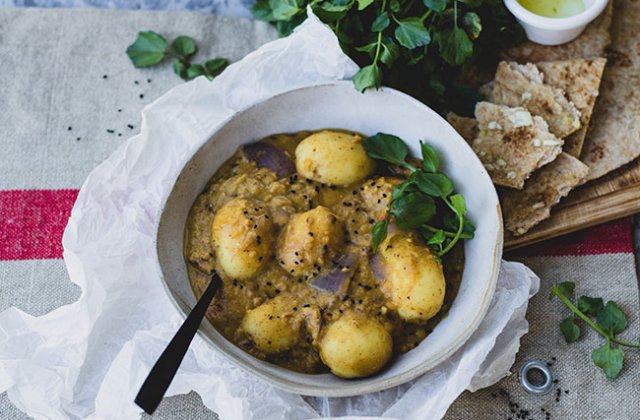 Skip the beef and go with a delicious combination of the same sweet curry flavours with a thick lentil base and creamy potatoes.
Ingredients
1 large red onion
2 tbsp olive oil
¼ cup vegan Massaman curry paste
1 cup red lentils
1 (270 ml) can coconut milk
2½ cups water
500 g baby potatoes
To serve
4 wholemeal wraps
2 tbsp extra-virgin olive oil
4 garlic cloves, crushed
1 bunch watercress
Method
Peel onion and cut into wedges. Heat oil in a large saucepan set over medium heat. Add the curry paste and cook, stirring, for 1 minute until fragrant. Add the onion and stir to cover in the paste, cook for another minute. Add the lentils and stir through the paste, pour in the coconut milk, rinse the can out with 1½ cups water to get all of the milk out and add into the saucepan as well.
Add the potatoes, cover the saucepan with a lid and simmer gently, stirring occasionally, for 20 to 25 minutes or until the potatoes are soft, adding the extra cup of water toward the end of cooking.
To make the wraps, drizzle two of the wraps with olive oil, spread with crushed garlic and top with the other wraps. Heat in a sandwich press or on a hot frying pan for 2 minutes. To serve, divide the curry between serving bowls, add watercress and serve with the hot wraps on the side.
Recipe by: The Wholesome Cook.