Italian stuffed capsicums (Peperoni imbottiti)
Italian stuffed capsicums (Peperoni imbottiti)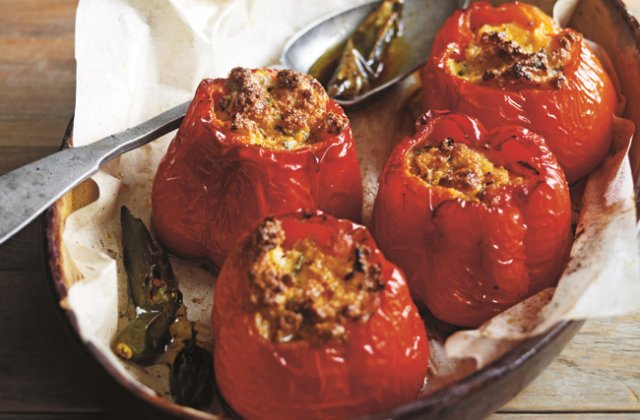 Silvia Colloca shares her recipe for Italian stuffed capsicums, aka Peperoni imbottiti.
Ingredients (makes 4)
4 green or red capsicums (peppers)
400 g fresh full-fat ricotta
4 tbsp fresh breadcrumbs
¾ cup (60 g) freshly grated pecorino
1 egg
4–5 basil leaves, roughly chopped
2–3 tbsp flat-leaf parsley, chopped
Salt flakes and black pepper
4 tbsp extra virgin olive oil, plus extra for drizzling (optional)
Method
Preheat your oven to 200°C (180°C fan-forced). Line a baking dish with baking paper.
Wash the capsicums, cut off the tops and scoop out the white membrane and seeds. Place the capsicums in the prepared baking dish.
Mix together the ricotta, breadcrumbs, pecorino, egg and herbs in a large bowl and season to taste with salt and pepper. Spoon the mixture into the capsicums until three-quarters full, then drizzle a tbsp of olive oil over each one. Drizzle extra oil all over the capsicums if desired.
Bake for 30–35 minutes or until a golden crust has formed.
Serve hot or at room temperature.
Recipe from Made In Italy with Silvia Colloca.