Detox cauliflower rice tabbouleh with prawns
Detox cauliflower rice tabbouleh with prawns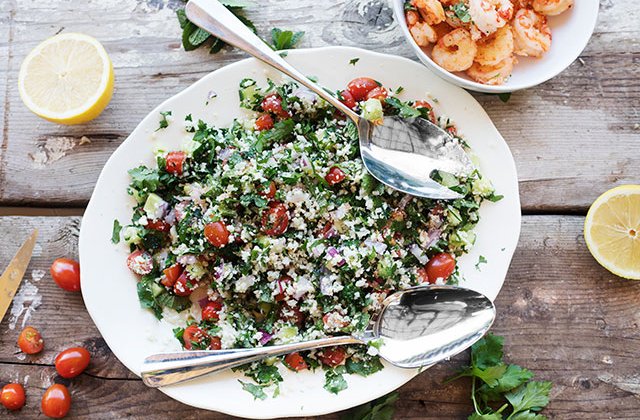 Start your spring cleanse with this delicious cauliflower rice tabbouleh with prawns by Steph Lowe aka The Natural Nutritionist.
Ingredients (Serves 2)
300 g prawns, peeled and de-veined
1 medium head of cauliflower, floreted
1 Lebanese cucumber, diced
200 g cherry tomatoes, quartered
1 red onion, diced
½ bunch of parsley, roughly chopped
½ bunch of mint, roughly chopped
2 tbsp extra-virgin olive oil
1 large lemon, juiced
½ tsp sea salt
1 tbsp cold-pressed coconut oil
Method
Pulse the cauliflower in a food processor until it resembles rice. Transfer to a serving bowl.
Add the cucumber, tomatoes, red onion, parsley and mint to the bowl and stir gently to combine.
Whisk the olive oil, lemon juice and salt together and pour onto the salad, tossing gently.
Heat a frypan on high heat and add coconut oil. Cook prawns for 3 minutes on each side until cooked and golden.
To serve, top tabbouleh with prawns.
Photography by: Sarah Craven