Tangelo & buffalo mozzarella salad with crispy quinoa
Tangelo & buffalo mozzarella salad with crispy quinoa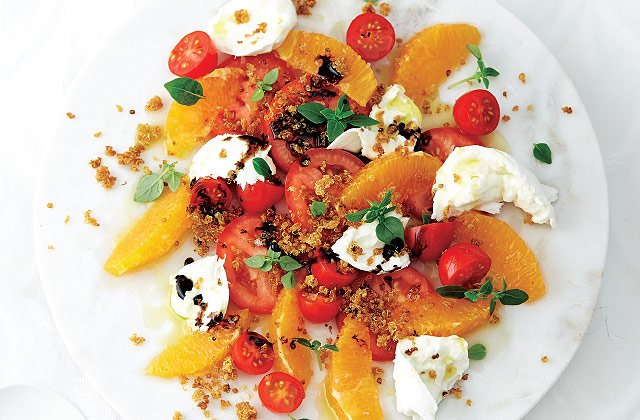 A delicious salad recipe high in vitamin C and essential nutrients.
Ingredients (Serves 2)
1 large tangelo, skin removed and segments sliced
100g buffalo mozzarella, approx. 1 large ball, roughly torn
15 cherry tomatoes, halved
2 tbsp cooked quinoa, plus olive oil for frying
Handful basil
Freshly cracked pepper and sea salt, to taste
For the dressing
1 tbsp balsamic vinegar
1 tbsp olive oil
Method
Heat a small frypan on high heat, add two tablespoons of olive oil and let the oil heat through for one minute. Add the cooked quinoa and stir continuously for three minutes or until the quinoa has turned golden and is crisp. Spoon the quinoa out of the fry pan and let drain on paper towel. Set aside.
Place the sliced tangelo, mozzarella and tomatoes on a serving platter, top with the crispy quinoa and basil leaves. Drizzle with the olive oil and balsamic vinegar. Add a pinch of salt and cracked pepper to taste.
Recipe from Gemma Lush; photo credit: Phu Tang