Spring lamb salad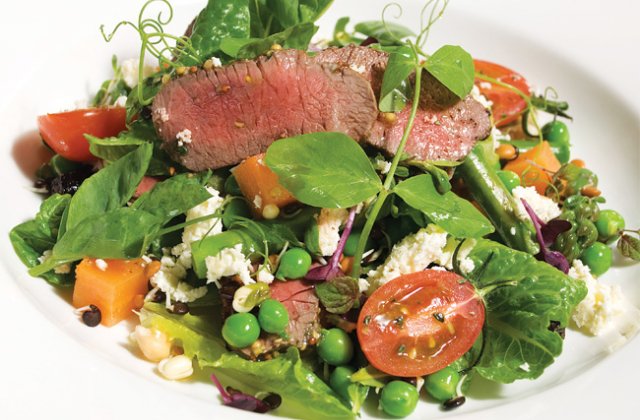 A light, tasty summer salad.
Ingredients (serves 6)
2 organic lamb loins/ back strap, approx. 250 g each (also leanest 
part of lamb)
½ bunch thyme
2 cloves garlic
Splash each of olive oil, mustard, 
lemon juice.
2⁄3 head baby cos lettuce
24 podded peas
12 spears of medium-sized asparagus
200 g salted ricotta (or feta)
100 g spring pea tendrils
1 handful of broad beans (optional)
2 large sweet potatoes (diced/cubed)
1 bunch fresh mint leaves, picked
20 local sun dried kalamata olives
40 ml verjuice
1 tsp honey
100 ml olive oil
Salt and pepper
Method
Clean all sinew off lamb back (speak nicely to your butcher, he may do this for you!).
Finely chop thyme and the garlic. Mix with the mustard/olive oil/ lemon juice, generously smear over the lamb, leave for 30 minutes.
Meanwhile, wash lettuce, pod peas and peel asparagus. Blanch peas first for 30 seconds then add asparagus and cook for a further 20 seconds. Refresh in ice-cold water.
Roast sweet potato cubes in hot oven for 30 to 40 minutes until cooked, but not mushy.
Heat griddle, add a splash of olive oil. When smoking, add lamb and cook three to four minutes each side. Be careful not to burn. Leave to rest for five to six minutes.
Make a quick dressing by combining the verjuice, honey and oil. Season to taste.
Toss all the salad ingredients in a large bowl (lettuce, peas, asparagus, feta, sprouts, sweet potato, mint leaves, olives). Place in the middle of a serving plate. Slice lamb and place around and on top, drizzle over vinaigrette.
Browse more healthy salad recipes>>