Vanilla & tonka bean chocolate bark
Vanilla & tonka bean chocolate bark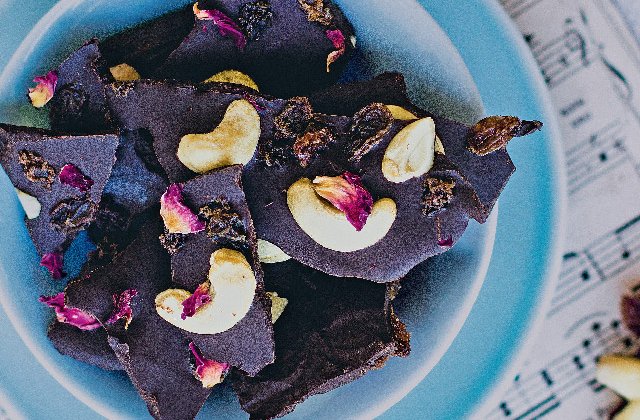 Tonka beans have a very unique 'feelgood' aroma with notes of vanilla, cherry and almonds. This is why they pair so well with dark chocolate, dried fruits and nuts. A hint of cayenne pepper provides a touch of lingering heat and digestive aid.
Ingredients
1 tonka bean

¼ tsp vanilla bean powder

Large pinch cayenne pepper

100 g dark chocolate, chopped roughly

½ tsp dried rose petals

Small handful nuts

Small handful raisins or dried cherries
Method
Zest tonka bean into a heatproof bowl; add vanilla powder, cayenne pepper and chocolate. Place over a pot of simmering water and melt the chocolate. Remove from heat and spread on a sheet of baking paper. Sprinkle with rose petals, nuts and raisins or dried cherries. Place in the fridge for 2 to 3 hours to set. Break up the chocolate into bite-sized pieces and store in the fridge.