Raw carrot cake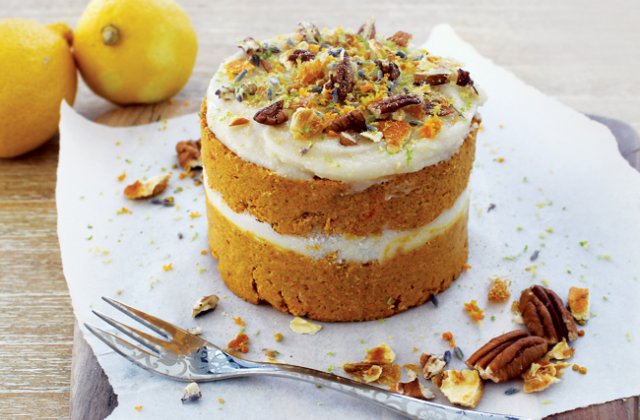 A delicious cake recipe from The Fit Foodie, Sally O'Neil.
Ingredients (serves 2)
For the cake
1 cup oats
200g carrot, chopped
35g pecans
5 tbsp unsweetened shredded coconut
1 tsp cinnamon
½ tsp nutmeg
2 tsp ground orange peel (optional)
10 dates, pitted and soaked
1 tsp pure vanilla extract
For the icing
3 tbsp cashews
1 tsp granulated stevia
50g creamed coconut, warmed
To decorate
Bee pollen
Crushed pecans
Dried orange peel
Lavender
Method
In a food processor or blender, pulse oats to a fine flour. Add remaining cake ingredients and process until smooth.
Meanwhile, make the icing by processing cashews and stevia to a fine flour. Add liquid creamed coconut and blend until well combined.
In a small food stacker or cake tin, spoon in half the cake mixture, top with half the icing mixture, and freeze for 30 minutes.
Remove from freezer, add remaining cake mixture and freeze again for three to four hours.
Remove cake from tin, top with additional icing and decorate as desired.
Allow to thaw at room temperature for 30 minutes before slicing and serving.
Browse more cake recipes or connect with us on Facebook!
Recipe and images from Sally O'Neil, the-fit-foodie.com