Double corn blueberry cobbler
Double corn blueberry cobbler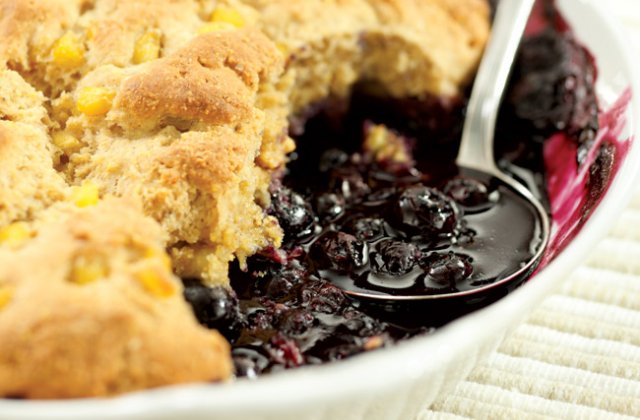 The hallmark of a cobbler is a biscuit topping baked right on top of the fruit.
Here, blueberries (or blackberries) and corn make a fun match. The sunny cornmeal batter comes together quicky and looks gorgeous on top of the deep-dark fruit filling. We like the rustic texture of medium or coarse-ground cornmeal, but any type works.

Ingredients (serves 8)
Filling
4 cups blueberries or blackberries (about 600g), fresh or frozen
¼ cup rice malt syrup
1 tbsp white whole-wheat flour
¼ tsp lemon zest, freshly grated
1 tbsp lemon juice
Topping
1 cup white whole-wheat flour
¾ cup cornmeal, preferably medium- or coarse-ground
1½ tsp baking powder
¼ tsp baking soda
¼ tsp salt
1 large egg yolk
½ cup buttermilk
¼ cup olive oil
3 tbsp rice malt syrup
½ cup corn kernels, fresh, frozen (thawed) or canned (well-drained)

METHOD
Preheat oven to 190°C.
To prepare filling: Combine berries, rice malt syrup, one tablespoon flour, lemon zest and lemon juice in a large bowl. (If using frozen fruit, let stand for about 30 minutes, stirring occasionally, to thaw the fruit before transferring to the baking dish.) Transfer to a 23cm shallow glass or ceramic baking dish.
To prepare topping: Whisk flour, cornmeal, baking powder, baking soda and salt in a large bowl until well blended. Whisk egg yolk, buttermilk, oil and rice malt syrup in a small bowl. Add the wet ingredients to the dry ingredients and stir to blend. Fold in corn.
Evenly spoon the batter on top of the berry mixture; the fruit will be almost completely covered with batter. Place the baking dish on a baking sheet to catch any drips. Bake until the berries are bubbly, the topping is golden brown and a toothpick inserted into the centre of the topping comes out clean, 35 to 50 minutes. Let cool for about 20 minutes before serving.