Chocolate & almond ice cream
Chocolate & almond ice cream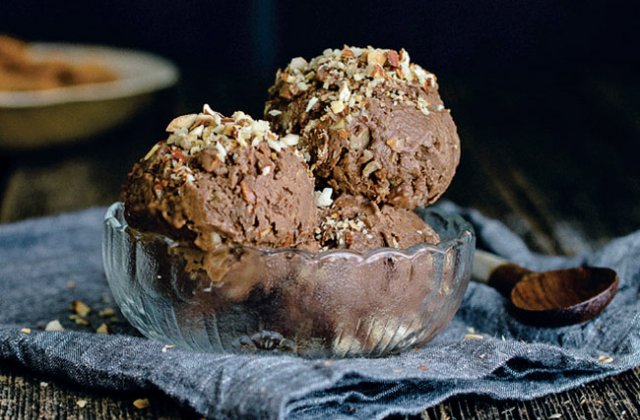 A deliciously rich vegan ice cream with almonds.
Ingredients Serves 4
3 bananas
130 g almonds
1 large, ripe avocado
400 ml coconut milk
½ cup honey
6 dates, softened in a little water and drained
1 tsp vanilla bean essence
4 tbsp cocoa powder
Method
Peel bananas and place in a plastic bag. Freeze for at least 3 hours or overnight.
Process almonds in a mixer until they resemble small pebbles. Remove almonds and set aside.
In the same mixer, process frozen bananas, avocado, coconut milk, honey, dates, vanilla and cocoa powder. Scrape down the sides if necessary.
Add almonds (minus 2 tablespoons to use as garnish) and mix with a spoon until well combined.
Place in an ice cream maker if you have one and follow instructions.
Alternatively you can place it into a suitable freezer-proof container and place in the freezer for 30 minutes. Use a fork to stir the mixture and break up the ice crystals before putting it back into the freezer for another 30 minutes. Repeat with the fork two more times before leaving to freeze for at least four hours or overnight.
Remove from the freezer 10 minutes before serving so it softens.
Scoop into a bowl or cone and sprinkle with reserved almonds.