How to use 'bean juice' (aquafaba) + lemon meringue cupcake recipe
How to use 'bean juice' (aquafaba) + lemon meringue cupcake recipe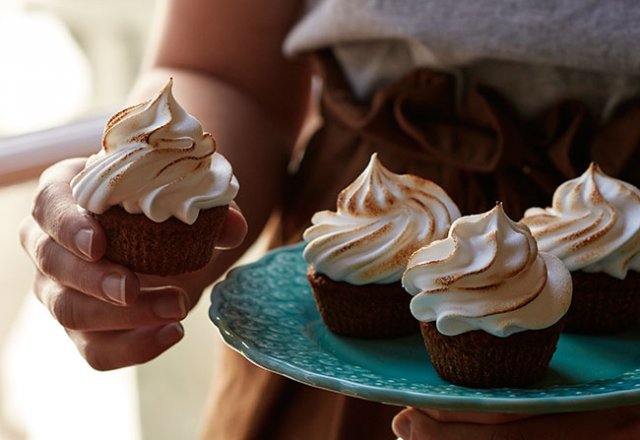 Looking for egg white alternatives? Nicole Maree shows us how to use 'bean juice' also known as aquafaba in your baking.
What is aquafaba?
Aquafaba is the water in which legumes have been cooked. Yes, you heard right — it's the water that usually goes down the sink when we drain our tinned beans. When you whisk this bean juice it mimics the functional properties of egg whites, thus making a fantastic vegan substitute in meringue recipes!
Avoid the salted tinned varieties, or your recipe will taste very beany and have a strong smell! Look for chickpeas in water or white beans in water as the two main (or only) ingredients.
Best for : Meringues, pavlovas and macarons.
How to : 1 medium egg white = 2 teaspoons of aquafaba.
NOTE: Unless the recipe says otherwise, whisk the bean water until it's frothy, then incorporate into your recipe.
What about the beans?
The plant fibre found in beans will naturally improve the texture of low-fat baked goods, making them dense and fudgy. Bean purée can replace 75 per cent of added oil in a recipe (replace the other 25 per cent with yoghurt for the best results). I like to use black beans in chocolate recipes, and white beans in lighter-coloured baked goods. Beans can make your baking denser, so for best results use them in fudgy recipes, such as brownies or mudcakes, and always use a salt-free variety to avoid a bean-scented dessert.
Lemon meringue cupcakes (Makes 12)
Cake
200 g gluten-free plain flour
2 tsp baking powder
2 tbsp cornflour
150 g rapadura sugar
½ tsp ground sea salt
250 ml (1 cup) rice milk, room temperature
80 g unsweetened applesauce
2 tsp vanilla extract
2 tbsp lemon juice
1 tsp finely grated lemon zest
Lemon curd
125 ml (½ cup) lemon juice
1 tsp finely grated lemon zest
30 ml tinned coconut milk
1 tbsp cornflour
¼ tsp turmeric
60 ml (¼ cup) maple syrup
Meringue
400 g tin salt-free chickpeas, chilled overnight
½ tsp cream of tartar
145 g caster (superfine) sugar*
½ tsp vanilla extract
*You can substitute the caster sugar in the meringue with 145 grams of rapadura sugar mixed with 1 teaspoon of arrowroot starch. It will still work; however, it will produce a flatter meringue and a less airy texture.
Method
Preheat the oven to 170°C (150°C fan-forced).
Line a 12-hole standard muffin tin with silicone cupcake liners.
In a large bowl, sift the flour, baking powder, cornflour, sugar and sea salt together. In a separate bowl mix the rice milk, applesauce, vanilla extract, lemon juice and lemon zest. Add the wet mixture to the dry and fold through until just incorporated. Fill the cupcake liners until they are three-quarters full. Bake for 40 to 45 minutes or until a skewer inserted into a cupcake comes out clean. Stand for 5 minutes before turning out, topside up, onto a wire rack to cool.
To make the lemon curd, combine all the lemon curd ingredients in a small saucepan over a medium–high heat. Whisk continuously for 5 to 7 minutes or until the mixture is smooth and thickened. Remove from the heat and allow it to cool completely.
Cut a deep hole in the top of each cooled cupcake with a small piping tip. Be careful not to cut through to the bottom of the cupcake. Fill each hole with lemon curd.
Drain the chickpeas and reserve 145 millilitres of chilled chickpea water (aquafaba) in a large glass or metal mixing bowl. You want the bowl to be completely clean and free of grease. You can use lemon juice to clean the bowl and rinse before use. Using an electric mixer with a whisk attachment, whisk the chickpea aquafaba and cream of tartar on medium speed until stiff peaks form. Continue mixing and add the sugar one tablespoon at a time until it's incorporated. Once all the sugar is added continue whisking for a further minute. Add the vanilla and whisk for another 30 seconds.
Spoon the meringue into a piping (icing) bag with a large star-shaped nozzle and pipe it onto the cupcakes. Place under a preheated grill (broiler) until lightly golden, or use a small blowtorch to brown them.
Serve immediately and enjoy!
Food photography: Elisa Watson
Words by: Nicole Maree.