Salted maple bananas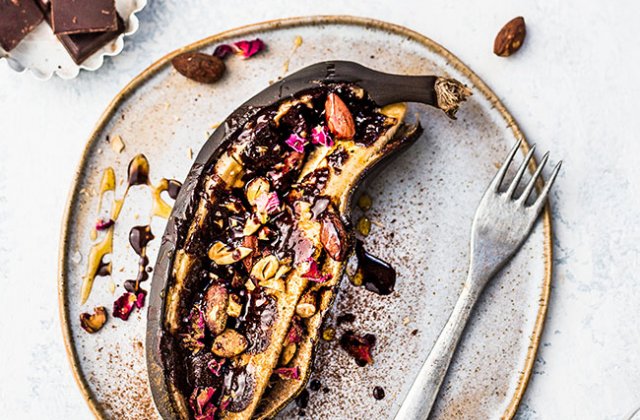 A twist on the classic barbecue dessert, this one is spiked with that amazing salty-sweet combo with the introduction of tamari almonds (yum!) and a pinch of sea salt, complemented by sweet maple syrup.
Ingredients
4 medium bananas
1 block 85% dark chocolate
⅓ cup tamari almonds
2 tbsp pure maple syrup
1 tbsp dried rose petals , to garnish
Sea salt
Method
Lay the bananas on a tray and score with a knife, cutting ¾ of the way through the flesh. Stuff the cavity with squares of chocolate and then wrap the bananas individually in foil.
Add to a hot grill for 8 to 10 minutes until the chocolate has melted, then remove.
Top with chopped tamari almonds, maple syrup and sea salt, then garnish with rose petals.
Recipe by Sally O'Neil aka The Fit Foodie.