Clean chocolate cake (raw cacao)
Clean chocolate cake (raw cacao)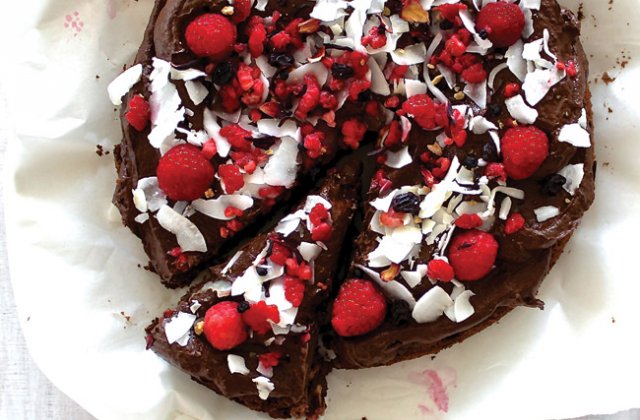 Looking for raw chocolate cake recipes? We love this raw cacao recipe from Sally O'Neill.
What remains is a nutritionally-dense, and delicious, raw powder.
Ingredients
½ cup melted coconut oil
½ cup raw cacao powder
½ cup rice malt syrup
9 free-range eggs
¼ cup coconut sugar
1 tsp baking soda
½ cup coconut flour
1 tsp natural vanilla extract
½ tsp Himalayan sea salt
Frosting
1 avocado
2 tbsp granulated stevia or rice malt syrup
4 tbsp raw cacao powder
Garnish (optional)
¼ cup coconut flakes
¼ cup smashed fresh raspberries
2 tsp dried red fruits or red tea blend
1 tbsp crushed nuts

Method
Preheat oven to 160°C. Whisk together coconut oil, raw cacao powder and rice malt syrup, and allow to cool. Using a hand-held mixer, beat eggs in a mixing bowl until light and fluffy (approximately two minutes). Add cooled chocolate mix and beat again until combined. In a large bowl add dry ingredients, mix well, then add wet ingredients. Mix together and pour into a lined 20cm cake tin.

Bake for one hour, or until a skewer removes cleanly. Meanwhile, blend together frosting ingredients until smooth. Top the cake, then garnish as desired.

Recipe and image from Sally O'Neill
NEXT: Raw chocolate brownies