Guillaume Brahimi's crème fraiche bavarois with mandarin and almonds
Guillaume Brahimi's crème fraiche bavarois with mandarin and almonds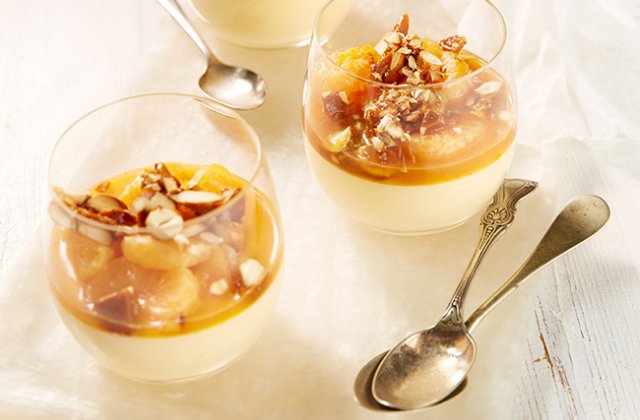 Celebrate Bastille Day with this delectable Creme Fraiche Bavarois by French-born Sydney based chef, Guillaume Brahimi.
A sweet, decadent dessert for the French-loving sweet tooths.
Ingredients (serves 4)
Crème Fraiche Bavarois
4 egg yolks
120 sugar
300 g Bulla Crème Fraiche
120 g Bulla Thickened Cream
2 gelatine leaves
2 mandarin zest
2 mandarins juiced
3 mandarins, pith, all white and seeds removed
40 g sugar
50 g crystallised almonds, roughly chopped
Method:
1. Soak the gelatine in iced cold water.
2. Place egg yolks with sugar and mandarin zest in a bowl in an electric mixer and whisk until pale.
3. Whip the 100 ml of cream and crème fraiche until firm, set aside.
4. Place remaining cream in a pot and bring to the boil and add soft gelatine and melt gelatine.
5. Fold together gelatine and egg yolks and then fold through whipped cream. Pour into 4 glasses and set for 8 hours.
6. Place sugar in a pot and place on medium heat when light caramel colour add juice, bring to the boil and when combined together add in mandarin
segments.
7. To serve, spoon cold mandarin segments over the the mousse and sprinkle
over almonds
Recipe provided by Guillaume Brahimi in partnership with Bulla Dairy Foods.