Moroccan quinoa salad with orange, mint and apricot
Moroccan quinoa salad with orange, mint and apricot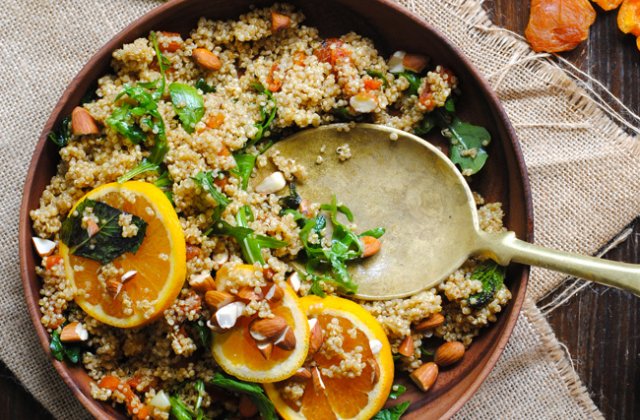 We love this Moroccan salad with quinoa, orange, mint and apricot. Perfect for lunch!
INGREDIENTS
1 cup quinoa
30 g preserved lemon, chopped finely
70 g butter
1–2 tbsp ras el hanout
1 tsp cumin
½ cup dried apricots
4 cloves garlic, crushed
Small handful of mint
Small handful of rocket
Generous pinch of salt and pepper
orange
½ cup chopped almonds
METHOD
Fill a large saucepan with water. Add quinoa, half the preserved lemon, and some salt. Bring to the boil, and then put the timer on for 7 minutes.
In a small saucepan, add the butter, ras el hanout, cumin, apricots, crushed garlic, a few crushed mint leaves and the rest of the preserved lemon. Cook on a low heat for 10 to 15 minutes, then set aside.
Drain quinoa and leave to cool, then put it in a large mixing bowl and cover it with the buttery deliciousness. Add your rocket, extra mint, and a bit of chilli if you like it hot.
Juice one half of your orange and pour it over the top then slice the other half. When you are ready, assemble the quinoa in your desired vessel and top with orange slices and the chopped almonds.
Recipe from food blogger Georgia McDermott, georgeats.com