Spiced quinoa and eggplant salad
Spiced quinoa and eggplant salad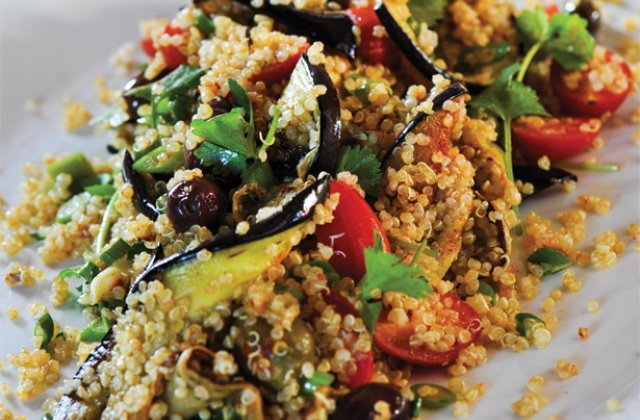 A healthy lunch idea from Dorota Trupp.
Ingredients (serves 4)
½ cup of quinoa
¾ cup of water
1 large eggplant
1 lemon
2 pinches cumin powder
2 pinches turmeric powder
½ tsp freshly grated ginger
6 tbsp olive oil
Salt
3 - 4 tbsp white wine vinegar
1 red chilli
½ bunch coriander
½ bunch spring onions
Method
Place quinoa and water into a saucepan, cover with a lid and bring to simmer. Cook until all the water is absorbed by the quinoa.
Cut the eggplants into thin slices, season with salt and roast the slices for a few seconds in a hot pan. Remove, sprinkle with vinegar and let them cool down to room temperature.
Chop the chilli very finely. Wash, dry and chop coriander and spring onions. Add all ingredients to the quinoa and toss through and serve.
Note: The salad lasts well for two to three days in the fridge. Best served with all kinds of shellfish, seafood, lamb, chicken, tofu or grilled tempeh.
Photo credit: Trupps' Cooking School