Quinoa green pea salad (gluten free & vegan)
Quinoa green pea salad (gluten free & vegan)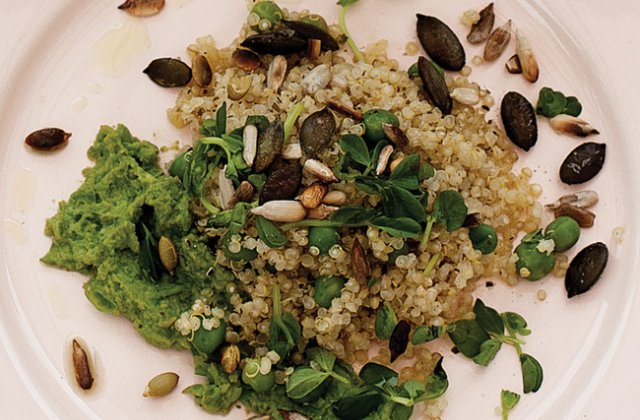 A gluten-free salad that's packed full of nutrients.
Ingredients (serves 4)
1 cup quinoa
1 cup frozen organic green peas
½ avocado
2 cloves garlic
Handful fresh mint
Pinch of salt
Pinch of pepper
2 tbsp olive oil
½ cup sugar snaps
Zest of 1 lemon
Handful of pea sprouts
2 tbsp sunflower seeds
2 tbsp pepitas
Method
Bring two cups of water to the boil. Rinse your quinoa, add to boiling water and let cook for 10 to 15 minutes until tender.
Rinse under cold water and set aside.
In a mini food processor, add in one cup of thawed frozen peas, the avocado, garlic, mint, salt, pepper and one tablespoon of the olive oil. Blitz until smooth.
Blanch the sugar snaps and set aside.
Add the lemon zest, a pinch of salt and the sugar snaps into the quinoa and toss together.
To serve, spread the minted pea mousse on a plate and top with the quinoa mix and then the pea sprout tops.
In a small frying pan gently fry the sunflower seeds and pepitas until toasted and then place on top of the salad.
NEXT: Healthy salad ideas>>
Recipe from Kate Bradley; photo credit: Elisa Watson