Rainbow salad with fresh vegies, feta & walnuts
Rainbow salad with fresh vegies, feta & walnuts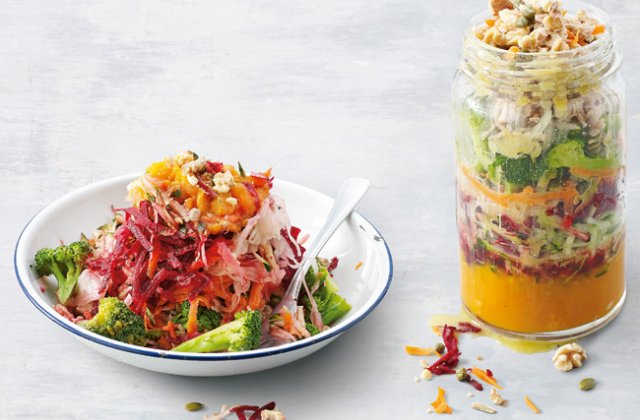 Looking for fresh, healthy salad ideas? Sarah Wilson recommends hitting up the local food markets for inspiration.
This recipe can be made using whatever vegies you have on hand.
Preparation time: 10 minutes
Ingredients (serves 2)
1 small carrot
1 small beetroot
1 small zucchini
1 cup cauliflower florets
2 spring onions, finely diced
Your choice of dressing (olive oil and lemon juice work well)
¼ cup crumbled soft feta cheese
¼ cup lightly toasted walnuts
Method
Grate (using a grater or food processor) or finely slice the beetroot, carrot, cauliflower and zucchini separately.
Layer each batch of vegetables between two jars with lids, adding spring onions to each.
Divide feta and walnuts between salads. Top with dressing of your choice.
Browse more salad recipes>>