Rice noodle and 
edamame salad (gluten free)
Rice noodle and 
edamame salad (gluten free)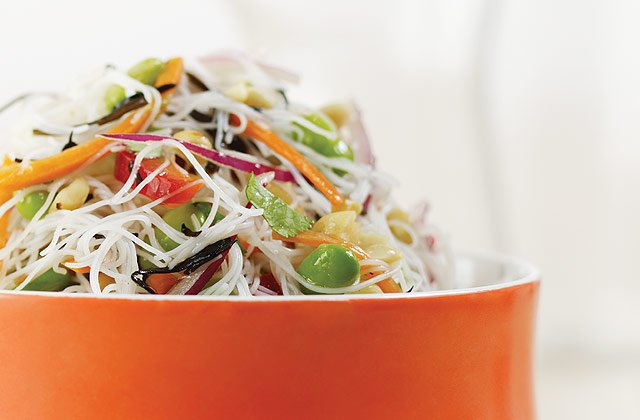 Looking for gluten free recipes? We love this rice noodle & 
edamame salad.
Ingredients (serves 5)
350 g shelled edamame
230 g thin rice noodles or rice sticks
1 cup arame or dulse seaweed (Asian food grocers)
¾ cup rice vinegar
2 tbsp olive oil
2 tbsp sugar
½ tsp salt
1 cup shredded carrot
1 medium red capsicum, thinly sliced
1⁄3 cup thinly sliced red onion
¼ cup chopped fresh coriander
½ cup lightly salted peanuts, chopped, divided
Method
Cook edamame in a pot of boiling water until tender. Drain and rinse with cold water. Soften or cook noodles according to package directions. Drain, transfer to a work surface and chop twice. If using arame, cook according to package directions 'for salads'; if using dulse, snip into bite-size pieces, but do not cook.
Whisk vinegar, oil, sugar and salt in a large bowl. Add the edamame, rice noodles, seaweed, carrot, capsicum, onion, coriander and quarter-cup of peanuts; toss well to combine. Serve sprinkled with the remaining peanuts.