Red Velvet cupcakes with chocolate frosting
Red Velvet cupcakes with chocolate frosting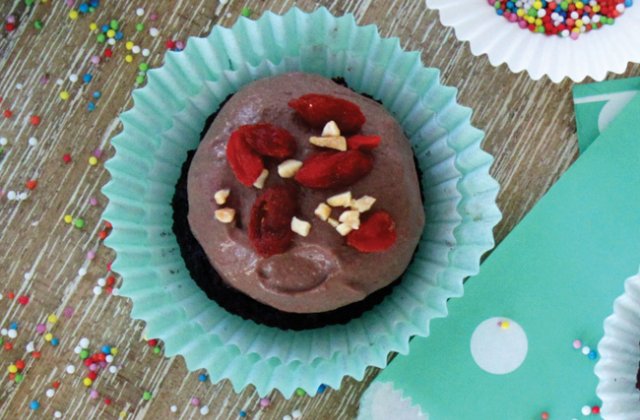 These Red Velvet chocolate cupcakes are made with raw cacao powder and packed full of antioxidants.
Ingredients (makes 12)
For the cupcakes
2 small beetroots (uncooked), finely grated
3 tbsp raw cacao powder
1 large free-range egg
½ tsp pure vanilla extract
2 tsp cinnamon
1 tsp nutmeg
1 tsp baking powder
1 cup almond meal
2½ tbsp coconut butter
¼ cup rice malt syrup
For the frosting
3 tbsp plain Greek yoghurt
3 tsp raw cacao powder
½ tsp cinnamon
1 tsp stevia (to taste)
To garnish (optional)
Goji berries
Crushed peanuts
Rainbow sprinkles
Method
Pre-heat oven to 180ºC. Combine dry cupcake mixture in a large bowl, then add wet ingredients and stir well. Pour batter into 12 cupcake cases and bake for 35 to 40 minutes. Remove from oven and allow to cool.
Meanwhile, mix the frosting ingredients together until smooth and check for sweetness. Frost the cooled cupcakes using the back of a teaspoon, garnish as desired and serve.
Recipe from The Fit Foodie Sally O'Neil