Olive oil blueberry crumble muffins
Olive oil blueberry crumble muffins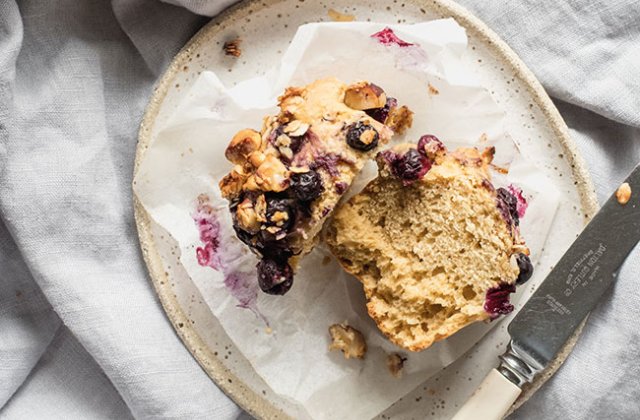 For simple melt-in-your-mouth blueberry muffins, try this recipe by Melanie Lionello today.

Blueberries add a fresh burst of antioxidants and flavour. Brazil nuts are the richest dietary source of the mineral, selenium, which also acts as an antioxidant.
Ingredients (makes 10)
2 eggs
½ cup olive oil
1 cup milk
½ cup coconut sugar
3½ cups wholemeal flour
2 tsp baking powder
1½ cups blueberries
Crumble
½ cup Brazil nuts
½ cup oats
1 tbsp honey
1 tbsp olive oil
Method
Preheat oven to 180°C (fan-forced).
In a bowl, combine oil and eggs. Add milk and sugar and combine until sugar begins to dissolve. Add flour and baking powder and combine until just mixed, don't over mix. Set aside.
In a separate bowl, combine all crumble ingredients together.
Spoon muffin batter into lined muffin pan ¾ full. Add a spoonful of blueberries to the top of the batter then add a tablespoon or so of crumble mixture, gently pressing into batter.
Bake for 25 minutes or until a skewer comes out clean.
Cool and enjoy!