Cacao & tahini whoopie pies
Cacao & tahini whoopie pies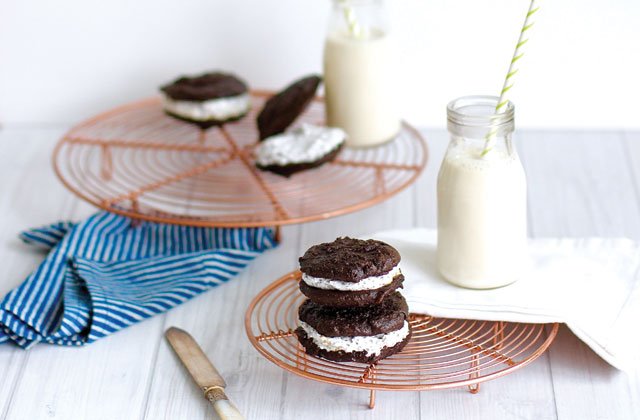 These tasty cacao and tahini whoopie pies are a healthy and delicious alternative for any healthy sweet tooth.
Ingredients (Serves 6)
For the cakes
½ cup liquid egg whites

¾ cup chocolate protein powder

¼ cup almond milk

2 tbsp rice malt syrup

2 tbsp granulated stevia

3 tbsp coconut flour

2 tbsp cacao powder

2 tbsp black tahini

1 tsp baking powder
Chia Cream
½ can coconut cream

2 tbsp black chia seeds

1 tsp rice malt syrup

Mango puree (optional)

½ cup frozen mango cubes, blended
Method
Preheat oven to 160°C and line a large baking sheet with parchment paper.
Mix together the chia, rice malt syrup and coconut cream, then set aside in the fridge to thicken.
In a blender, add all the cake ingredients and blend until smooth.
Dollop the chocolate batter onto the baking sheet. There should be enough to make approximately 12 cakes.
Cook for 15 to 20 minutes and remove to a cooling rack.
When completely cool, spread a thick serving of chia cream onto the bottom of one cake, then top with a teaspoon of mango puree. Top with another cake to finish the whoopie pie.
NEXT: For more healthy alternatives try the chocolate peanut butter cheesecake cups.